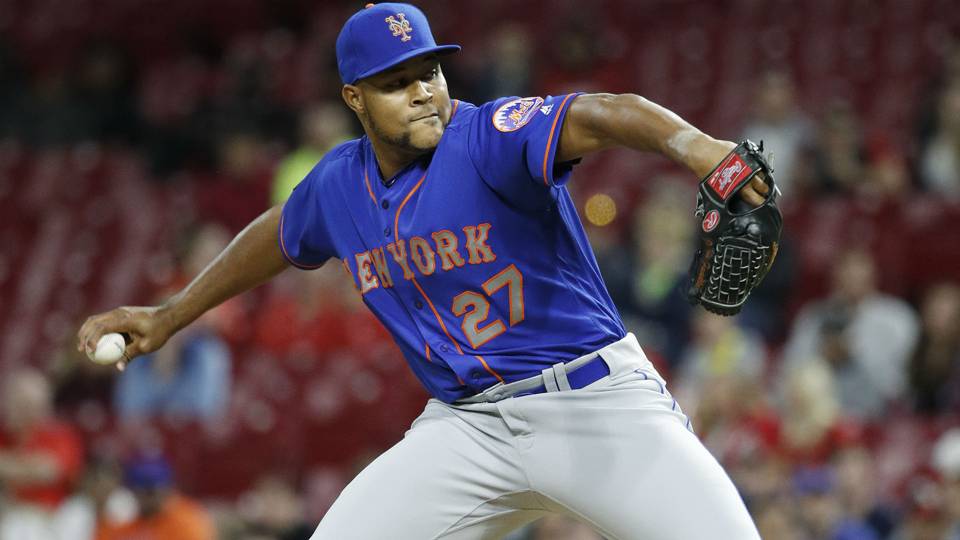 As pitchers and catchers un-officially reported to Port St. Lucie yesterday, Mets setup man (and former closer), Jeurys Familia expressed his excitement about the upcoming season with a bold statement, per John Healy of SNY.
"Right now, I think this is our year. If everybody is healthy, we're going to go deep into games and going to win some games," Familia told reporters on Monday.
After spending the first seven years of his career in New York, the 29-year-old was traded to the Oakland Athletics last summer. Between the Mets and A's last season, Familia posted a 3.13 ERA, 2.65 FIP, and 1.222 WHIP and struck out 83 batters in 72 innings.
"If you want to win games you have to be perfect. That's the only way we can get to the World Series and win a championship. He has that. It's really good to have somebody … with that kind of mind," said Familia when speaking on his new General Manager, Brodie Van Wagnenen, who he also feels has done "a great job" improving the team this offseason.
One contributing factor that assured Familia's decision to return to the Mets was when Van Wagenen visited the reliever in the Dominican Republic last month pushing a blue print for a culture change within the organization. This also further enhanced Familia's impression of his GM.
After spending the last four years as the Mets closer, Familia will now shift into a setup role due to the addition of young hard throwing closer, Edwin Diaz, who was acquired from the Seattle Mariners this offseason via trade. Despite the change in his role, the former closer does not appear to be phased in the slightest, saying that he will always have the same mentality of just going out there to try and get the batter out.
Familia also noted that while he had several offers from other teams to be a closer, he ultimately chose to return to the Mets due to the talent that was brought in this offseason and vision of change that was created by Van Wagenen. He also cited his familiarity within the organization, along with his family still living in the New York area, as major factors that played into this reunion, as well.
Familia looks to complement Diaz in the eighth inning, whose one of the best young closers in the game at age 24, coming off a stellar season recording 57 saves and 124 strikeouts in 73.1 innings. They now have the potential to "size up" any other bullpen in the league as one of the top 1-2 back end combinations in all of baseball.
From 2015-2016, where the Mets made two playoff and one World Series appearance, Familia recorded a combined 94 saves and averaged a 2.20 ERA, 2.56 FIP, 1.105 WHIP, and 9.8 K/9 ratio, as the closer in Flushing.
While Familia may have had other opportunities to close elsewhere, it is clear he wants to be here and play for the organization he grew up in, as he is quoted by saying, "This is my house."