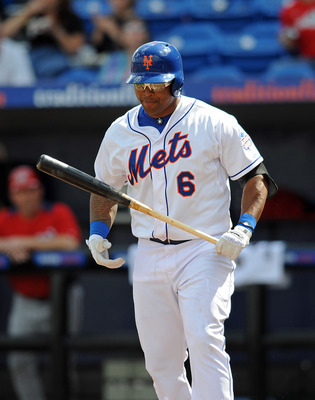 Most of the attention concerning the Met outfield the past few weeks has gone to Jordany Valdespin, both for his character and his play on the field. However, there has been one player who has very quietly got on a roll, and may be able to plug a hole in the still-fluctuating outfield: Marlon Byrd.
Byrd captured the attention of Mets fans and earned himself a spot on the roster with an incredible spring training, in which he hit .357 with a .965 OPS and a team-leading nine doubles, five more than anyone else on the team. However, once the calender turned and regular season play began, Byrd struggled, and was relegated to a lesser role. He finished the month of April with a .232 batting average and a .759 OPS.
Since May began, Byrd has turned it on at the plate. Despite having a diminished role, Byrd has hit .357 with a  .988 OPS this month along with two home runs in 29 plate appearances.
The reason for Byrd's decline over the past two seasons (other than just getting a little bit older) may very well be his plate discipline. Byrd, in his best years, was swinging at pitches outside the strike zone somewhere in the range of 29 to 30% of the time. That number has increased to the high-30% range over the past few years. This year, he is swinging at a career high 40.9% of pitches outside the strike zone, but recently, has improved on that dramatically. He stuck out in almost 32% of his plate appearances in April, striking out at least once in almost every game, but has lowered that significantly, to just 24% this month.
Compared to the rest of the outfield recently, Byrd has been by far the best hitter. Here is how he compares to the rest of the outfield this month:
Byrd has been overlooked the entire season, when in reality, he one of the best options the Mets have on the 40-man roster. Remember, not too long ago, Byrd was a reliable 10-15 home run hitter with a .280-.290 batting average, which isn't great, but it is certainly better than the struggling Mike Baxter.