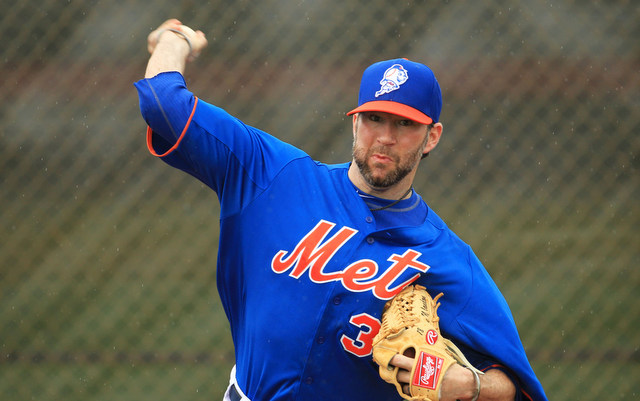 The Mets made arguably their biggest addition of the offseason in late January, when they finally filled in the slot once filled by R.A. Dickey. The man chosen to fill the spot was 31 year-old right-hander Shaun Marcum. Marcum is a seven-year MLB veteran with the Blue Jays and Brewers, and has spent the last two season in Milwaukee after being traded in December 2010 for Brett Lawrie.
Marcum has put up above average numbers throughout his career. He has a 3.76 career ERA, including his 3.60 mark since coming over to the National League. He doesn't walk too many batters, with a 2.8 BB/9 rate over his career and a 2.4 rate since 2010. He has had success, even without great stuff. His fastball is quite slow fo a conventional pitcher, sitting in the mid-80s. He has had to utilize his secondary pitches his entire career to get hitters out, and has done so with much sucess, his primary weapons being his changeup and slider.
There are injury concerns with Marcum, which is why likely the sole reason why he wasn't offered a multi-year contract this offseason. He has battled injuries throughout his career. In 2007 and 2008 as a full-time starter with Toronto, he missed some time, throwing 159 innings in 2007 and 151 in 2008. Marcum went down with a late-season elbow injury in 2008 that finished his season, and forced him to undergo Tommy John surgery. He was able to make a few minor league starts in 2009, but didn't make it back to the majors until 2010.
2010 and 2011 saw better health for the right-hander. Coming off Tommy John surgery, Marcum pitched 195.1 innings in 2010 and rose over the 200-inning plateau for the first time in his career in 2011. LAst year, however, he missed significant time due to elbow and shoulder problems, and was only able to toss 124 innings. He was out from mid-May to late-August with issues, and wasn't quite himself when he got back. After coming back from the DL, Marcum posted a 4.32 ERA the rest of the season, with slightly worse strikeout and walk rates. This made the signing of Marcum risky for the Mets. Luckily, they only guaranteed him $4 million, with $4 million in incentives. If healthy, he could be much more valuable than that.
Spring training has been promising for Marcum up to this point. He's been throwing strikes and in his last two starts, has been impressive. He took some time away from game action to strengthen his shoulder, with the team claiming he wasn't injured. Based on what we saw this weekend, it can be safe to assume that they were telling the truth, and that the hiatus was more of a preventative measure than anything else. He is staying healthy so far with no news of pain in his arm of elbow. That has me relatively optimistic for Marcum's performance this season. If healthy, he is an above-average third starter who will be valuable piece in the Mets rotation.
2013 Projection:
3.80 ERA, 175 IP, 7.5 K/9, 2.5 BB/9, 2.1 WAR