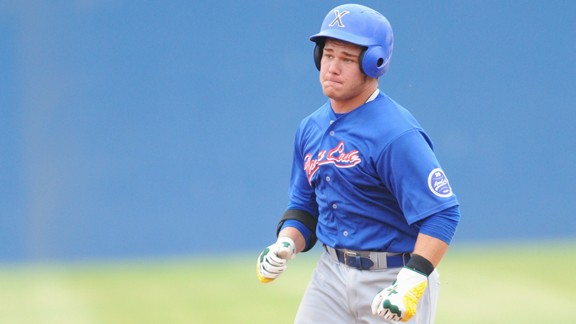 The June MLB First Year Player Draft is rapidly approaching. The Mets brain trust will be tasked with filling the organization with more quality talent. According to ESPNNewYork's Adam Rubin the Mets own 4 pick's in the top 75 (12,35,71,75).
In the coming months many people will speculate who the Mets are targeting at #12. While consensus thought is that they will take offense (an area the Mets minors is currently lacking), anything is possible. The Scouting Department could have a pitcher really high on the their boards that falls into there laps at No. 12 and pull the trigger. The more likely route however is an offensive player.
A possible name that could be available at #12 is Stryker Trahan. Trahan is the second ranked Catcher right now only to Florida's Mike Zunino. Zunino who is a likely top five pick in the upcoming draft.
Our friends at Baseball Prospect Nation offers the following summary on their scouting report for Stryker Trahan:
Really intriguing catching prospect with Projectable defensive tools and legit left-handed power. Good feel for the game and a hard worker. Continues to improve behind the plate. Arm is weakest defensive tool and even that will play at the position. Power offensive profile could land him fifth or sixth in the order on a good club. Some questions about his long term hitting ability, but he shows good aptitude and solid hands that should let his power play. Best high school catching prospect in the draft. Easy first round pick that should go in the teens.
From the video i've seen I love Trahan's swing. It's short and compact and the follow-through is tremendous. I do question whether he will be able to adjust to quality breaking ball's ultimately, however his plate discipline is exceptional. On the defensive side of the ball he certainly has the arm. His throw can be a little inaccurate at times, however that is normal for someone with his raw potential. He has ideal size for a catcher and seems likely to stay at the position unless he grows. Should he keep growing he may ultimately profile as a 1B/RF.