According to Jayson Stark of ESPN.com, former Mets LHP Chris Capuano has agreed to terms with the Dodgers on a two year, $10 million contract.
Honestly, as much as I would have liked to have Capuano back on a one-year deal, his chances to re-sign with the Mets was doomed the moment he mentioned he wanted a two-year deal.
Capuano did provide the Mets with one of of our Best Moments of 2011.
Best Moment #2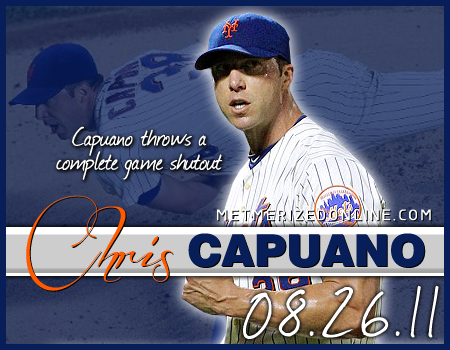 Chris Capuano pitched the game of his life – a complete game, two hit shutout, striking out 13 and facing only one over the minimum as the Mets beat the Atlanta Braves 6-0. Cappy had a perfect game until a broken bat single by Dan Uggla in the fifth inning. It was considered by most as the best pitched game in the major leagues in 2011. For Capuano it was his first complete game since 2006.