As our Mets Minor League expert Petey Pete unveils Brandon Nimmo at No. 5 in our 2012 MMO Top 20 Prospects, here's an interview Joe Spector did with Nimmo in October. Enjoy the read, Mets fans! – Joe D.
In his first year as General Manager of the New York Mets Sandy Alderson and his team of baseball executives led by Paul DePodesta, the Mets vice-president of player development and scouting entered the 2011 Draft with one purpose in mind – to draft the best player available.
They've abandoned the previous administration's track record of drafting players a bit more prepared. Doing so would put them at risk of paying overslot for a draft pick. Instead they gravitated towards drafting players with a high ceiling and when the Mets decided on the 13th draft pick, they chose Wyoming native Brandon Nimmo.
A 6 foot 2 outfielder who bats left-handed and throws right handed, Nimmo was drafted right out of high school. Ironically his high school has never had a baseball team, as do all high schools in Wyoming. Considering the frigid winters in Wyoming it's hard to imagine anyone bearing below zero temps while taking a hard cutter on the hands – with an aluminum bat no less. He did however play American Legion ball; 76 games where he hit a torrid .448 with 15 homeruns and stealing 34 bases without being caught. His raw talent is what caught the organization's attention.
"We weren't interested in making the safest pick," DePodesta said moments after selecting Nimmo with the 13th overall pick. "We were interested in the pick that could have the most impact."
Baseball America ranked Brandon the second best high school athlete in the 2011 draft and as the second best pure high school hitter. Some scouts have compared him to Paul O'Neill and Rocco Baldelli, but like most comparisons, they never do justice to the person being compared.
I had a chance to ask Brandon a few questions now that he's officially a member of the New York Met organization. I wanted to keep it as lighthearted as I could and I think he appreciated it, or tolerated it? One never knows for sure. Either way I thank him for his time.
Joe Spector: Brandon, did you always believe that you'd be playing professional baseball someday?
Brandon Nimmo: No I didn't. It started out as trying to get my college education paid for and it escalated into what it is now. I always wanted to play professional baseball though.
JS: Try to describe how you were feeling when you received the call that the New York Mets drafted you.
BN: Well, I found out like everyone else did…on TV and I was just as surprised as everyone else. When I heard my name get called everyone in the room went ecstatic – they were jumping, yelling and it felt like you just won the biggest game in your life. There is no feeling like it.
JS: How has the transition from aluminum bats to wood been for you? What are the biggest differences for you?
BN: The transition wasn't too tough for me because I've been using wood much more through the years. I would take everything with wood until the start of the games then use the aluminum bats. Towards the end, the metal bats actually became foreign to me. The biggest difference is of course the pop of the bat as the balls obviously don't go as far. The other challenge for me was to get used to how wood bats are balanced as compared to aluminum.
JS: Who are some of the players you've emulated or enjoyed watching as you've grown up? And what outfield position are you most comfortable with?
BN: I'm most comfortable in Centerfield. As to my favorite players, Troy Tulowitski was always a favorite of mine growing up along with Todd Helton, since I grew up near the Rockies. I always liked Ken Griffey Jr. as well and I have gotten to know David Wright better since I've been a part of the organization. He's a great guy and an even better player.
JS: There's a dream that any kid who's played baseball has had and it's the moment they see themselves on a baseball card. How exciting will it be to see yourself on a baseball card?
BN: Well fortunately enough I've already seen myself on a baseball card and I just finished signing some before this interview. All I can tell you is having your own baseball card is very surreal. It just solidifies that you actually are a professional and that all of this isn't a dream.
JS: Major League Baseball teams today tend to have an overall team philosophy starting from Rookie ball on up. Can you describe how the Mets philosophy was explained to you?
BN: The Mets philosophy is to play fundamental baseball. Expect mistakes to be made by the other team (especially baserunning). Hone your strike zone recognition skills and do all of this at 100%. I'm still learning all the time but I'm giving it my best effort every time.
JS: Alright Brandon time to jump off subject here and get serious. If you could be a celebrity for one day who would you be and why?
BN: Oh holy cow…I have never thought about that! This is actually the question that took the longest for me to answer if you can believe that! I would have to go with Dierks Bentley. I would love to have a voice like that and be as musically talented as he is. Plus all the girls love him!
JS: Hey I can't argue with that. Chicks dig a good voice and the longball. What are some of your favorite movies and I have to ask or I wouldn't be doing due diligence…Jersey Shore…yay or nay?
BN: I'm a big comedy guy. Anything that makes me laugh I like. Some of my favorites are: The Emperor's New Groove, Tommy Boy, Anchorman, Dumb and Dumber, The Rookie, Forrest Gump, The Harry Potter movies, Lord of the Rings, Gladiator and Troy. As to Jersey Shore would you believe I've never seen it! I know there's actually a teen that hasn't seen Jersey Shore, unreal but true!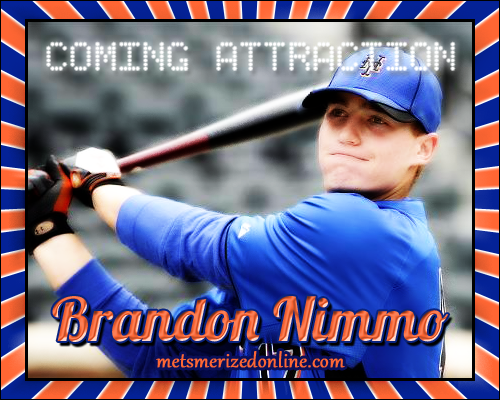 I just want to thank Brandon again for taking the time to do this. It's funny, as a fan we tend to put professional players on such a high pedestal that we tend to forget that they're just like the rest of us in so many ways. Not to mention just how young some like Brandon are and what an amazing road he's undertaking. I'm sure he'll be inundated with advice along the way. I think as long as he stays focused and remembers that ultimately he's still playing the same game that he began playing in Wyoming; he should be quite all right. Here's to seeing Mr. Nimmo patrolling Citifield in a few years.
Graphics by Kelly Designs.