Before the hardware starts getting handed out, here's my take on who earned the top honors for the 2011 regular season.
National League MVP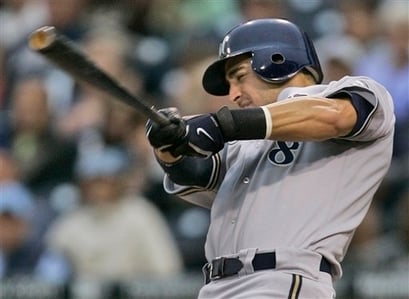 Ryan Braun, OF, Milwaukee Brewers
Jose Reyes may have won the batting title, but Braun earns the National League's top award after batting .332 with 33 home runs and 111 RBIs this season. He led the league with a .594 SLG and .994 OPS and did I mention his 33 stolen bases and solid defense?
Honorable Mention: Matt Kemp, OF, Los Angeles Dodgers (Close, but no cigar.)
American League MVP

Jacoby Elsbury, CF, Boston Red Sox
I'm sure I'll get killed for this one, but I have to go with Elsbury over Cabrera, Bautista or A-Gon. Sure those three had tremendous seasons, but the way I see it Elsbury had a better all-around season with a .321/.376/.552 slash in 729 PA. He slugged 32 home runs, scored 119 runs and drove in 105 while leading the league with 364 total bases. Plus he stole 39 bases and plays a more demanding position than the other three. 
Honorable Mention: Miguel Cabrera, 1B, Detroit Tigers
National League Cy Young

Clayton Kershaw, Los Angeles Dodgers
Clayton Kershaw had a magical season in 2011 going 21-5 with a league leading 2.28 ERA, .098 WHIP and 238 strikeouts to nail down the Pitching Triple Crown. The 23-year old phenom also had the best BAA and get this, he allowed one earned run or none 18 times this season. That's sick!  No complaints here, right?
Honorable Mention: Pick any Phillies starter, Halladay, Lee, Hamels. (I'm gonna puke.)
American League Cy Young

Justin Verlander, Detroit Tigers
Where do I begin, Justin Verlander was All-World finishing with a 24-5 record and leading the American League with a 2.40 ERA, 0.92 WHIP and 250 strikeouts. We may have witnessed one of the best AL pitching performances in the last quarter century. Two Pitching Triple Crowns in the same season, that's amazing! 
Honorable Mention: James Shields, SP Tampa Bay Rays (Sorry Weaver, Shields did it against the Blue Jays, Yankees and Red Sox)
National League Rookie Of The Year

Craig Kimbrel, RP, Atlanta Braves
Kimbrel had an absolute monster season period and wasn't just a top rookie, he was the top closer. He set a rookie record for saves with a league leading 46, while posting a 2.10 ERA and a 1.04 WHIP. In 77 innings Kimbrel struck out 127 batters – that's a 14.8 strikeout rate!
Honorable Mention: Freddie Freeman, OF, Braves (DAMN BRAVOS!)
American League Rookie Of The Year

Jeremy Hellickson, SP, Tampa Bay Rays
Some may argue this call, but I found Hellickson to be the most deserving. The Rays rookie went 13-10 with a 2.95 ERA and a 1.15 WHIP in 29 starts.  Not nearly as overpowering as Kimbrel, the young right-hander posted a 5.1 K/9 and a 3.4 BB/9 so it remains to be seen if he can repeat this success. He did have an impressive .214 BAA, so there's also that.
Honorable Mention: Mark Trumbo, 1B, Los Angeles Angels (Tough call.)
National League Manager Of The Year
Kirk Gibson, MGR, Arizona Diamondbacks
He took over one of the worst teams in the league and then led them to a division leading 94-68 record and a play-off berth.
Honorable Mention: Ron Roenicke, Milwaukee Brewers (He inherited a better team and had more to work with.)
American League Manager Of The Year

Joe Maddon, MGR, Tampa Bay Rays
He loses Carl Crawford, Matt Garza, Rafael Soriano and Carlos Pena and his team roars back into the post season and knocks the Boston Red Sox into the Twilight Zone.
Honorable Mention: Jim Leyland, Detroit Tigers (One of the all-time greats.)