The Prince of New York
It's amazing how often I see or hear Prince Fielder's name pop up as a potential target for the Mets this offseason. I get the fascination of course, what's not to like? But what bugs me is how willing everyone is to brush aside Ike Davis as if he's a liverwurst sandwich. There are many reasons why I believe going after Fielder would be a bad decision, and Ike Davis is one of them. Why would you want to pay $20 million dollars a year for about 5-10 extra home runs than you would get from Davis who was on pace to hit 30+ this season? Especially when we have a dozen other more important needs to fill? Did you know that before David Wright collided with Ike Davis, he was batting .310 with a .382 OBP, .543 SLG and .925 OPS? Fielder's career slash? .281/.388/.537/.925 – So can we please put a cork on all the Prince Fielder gibberish for now? We obviously got much bigger fish to fry than fixing what's not broke at first base… Why isn't anyone asking about C.J. Wilson instead?
Bandbox My ***
If Citizen's Bank Ballpark is a bandbox, somebody forgot to tell Cliff Lee (2.38 ERA), Roy Halladay ( 2.41 ERA), Vance Worley (3.00 ERA), Cole Hamels (2.75 ERA) and Kyle Kendrick (3.17 ERA). Can you imagine how our rotation would get hammered if they had to make half of their starts at CBP? As it is stands now the Mets team ERA stands at 4.19 which ranks 22nd in the majors.  The Mets sound like they have no plans to change the rotation either and for another year they will bank on the healthy return of Johan Santana as their only significant addition. The point is don't worry about reducing the dimensions of Citi Field, good pitchers pitch good no matter where they pitch, even if it's in a bandbox like CBP. If you're worried about the effects reducing Citi Field will have on our rotation, then you have your priorities screwed up. Instead you should be concerned about why we'll be going into 2012 with the same sub-standard rotation as we had in 2011. That should be EVERY Met fan's main concern…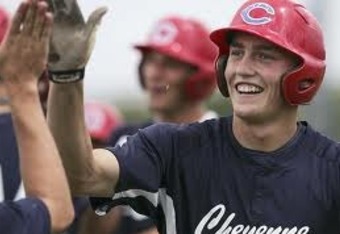 Are the Mets Sending Suspects or Prospects to Arizona?
My friend Mack from Mack's Mets posed an interesting thought last week on his site. He wrote:
I'm confused with the players sent to Peoria of the Arizona Fall League: P Collin McHugh, P Taylor Whitenton, 3B Jefry Marte, 2B Wilfredo Tovar, and OF Juan Lagares. Isn't this the fall league where you are supposed to send your best prospects to?
Where is Zack Wheeler or Matt Harvey? Where is Brandon Nimmo? Who is Wilfredo Tovar? Was Jordanny Valdespin unavailable and isn't he someone that we could get a better read on playing against MLB's best prospects? I know Reese Haven's was originally slated to go, but the fear of another injury changed that scenario… Call him Mr. Glass… Maybe our Mets minor league maven, Pete, can give us his thoughts on this in another post.
One Last Swing…
There's a new video from SNY on MetsBlog, in which several Mets get together to share their predictions for who will win the Super Bowl this season.
I wish they would make a companion video where they predict who will win the World Series in 2012… Or 2013… I'm really interested in hearing Wright's and Bay's predictions on that…