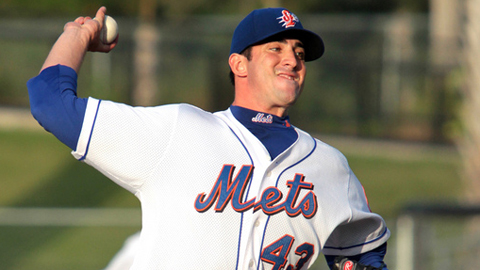 Brian Costa of the Wall Street Journal had a great post this morning for those of you who can't get enough on Mets pitching prospect Matt Harvey.
The Mets top selection in 2010 started out the season with a dominating performance in Single-A Port St. Lucie, where he was recently named the Top Pitching Prospect in the Florida State League. Harvey was promoted to Double-A Binghamton in June, finishing his St. Lucie stint with an 8-2 record, a 10.9 strikeout rate and a 2.37 ERA. 
While some may point to Harvey's 4.99 ERA in Double-A and say he's struggling, Costa correctly points out that his strikeout, walk and home run rates—which are considered more telling measures of performance—are almost identical to what they were in Class A.
It looks like Harvey has certainly got GM Sandy Alderson's attention, and while he ruled out the possibility of a call-up when rosters expand in September, Alderson said something even more telling when he posed the idea we could see Harvey in 2012.
"Once a guy gets to Double-A, anything can happen. I think 2012 at some point is conceivable. I think definitely 2013 would be an expectation on our part."
Last week, after a dominating 11 strikeout performance, Binghamton manager Wally Backman couldn't stop gushing over Harvey and said,
"I know it's Double-A, but this kid has a big-league, swing-and-miss curveball. Bryce Harper is the real thing, believe me, but Harvey made him look so bad with that curveball. He struck him out twice with it, and honest to God, the guy swung over one of them by at least a foot."
The more we hear, the more there is to get excited about with Matt Harvey. As Costa speculated, he could be the best Mets homegrown starter since Dwight Gooden. That's quite a compliment.