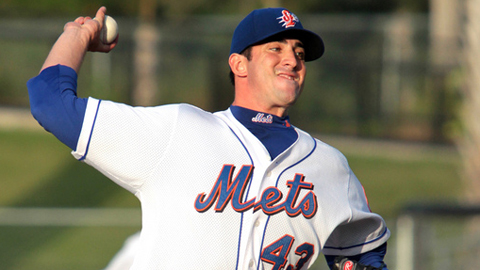 Last night, Mets pitching prospect Matt Harvey hurled five scoreless innings and combined on a three-hit shutout as Binghamton beat Altoona 3-0.
In his last two starts, Harvey has looked as dominating as he was in Single-A St. Lucie. In 12 innings pitched he has allowed just one earned run on seven hits, while striking out 14 batters and walking only three. Batters have been held to a .170 batting average.
He has allowed three or less runs in five of his last six starts at Double-A after a rough debut in Binghamton, but he's been gaining experience, baffling hitters with his lethal curve, and his confidence couldn't be higher according to his manager Wally Backman.
Yesterday, Harvey was the topic of conversation on SNY's Wheelhouse, where Mark Malusis projects Matt Harvey to be the next true ace of the New York Mets and that it will happen as soon as 2013.