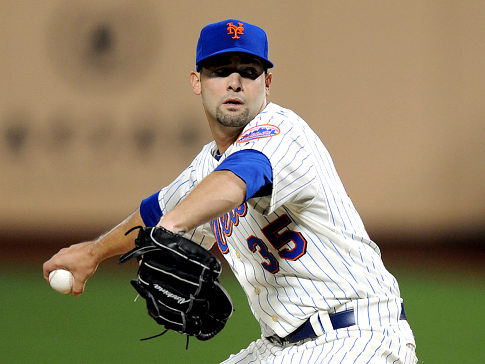 NEW YORK METS AT FLORIDA MARLINS
RHP Dillon Gee (9-3, 3.67) vs. RHP Anibal Sanchez (6-3, 3.52)
Starting Line-up
Jose Reyes – SS

Justin Turner – 2B

Carlos Beltran – RF

David Wright – 3B

Daniel Murphy – 1B

Angel Pagan – CF

Jason Bay – LF

Josh Thole – C

Dillon Gee – RHP
The Mets and Marlins play the rubber game today as the Mets will try to take a series in Miami. The big game story for today will be SS as Turner will be getting the start there while Reyes gets the day off (as of 9:41, when this article was written). The Mets will try to give Gee some run support today as he tries to dismantle the Marlins lineup.
Dillon Gee is 9-3 on the season with a 3.67 ERA. He made his first really strong start in a while last time out as he pitched 7 innings of 2 earned run ball. In his short career, he has never faced the Marlins (really, even though they are a team in the NL East). The only player on the Marlins that has seen him is Infante who is 0-4 career against Gee.
The Mets will get a look a familiar foe today in Anibal Sanchez who is 6-3 this season with a 3.52 ERA. His two starts since the All Star Break has been very good as he has allowed 4 ER in 12.1 innings of work. This will be Sanchez's first start against the Mets this season but in his career he is 4-4 over 9 starts against the Mets with an ERA of 4.53. The Mets have the following numbers against him:
Wright 5-18, HR
Pagan 3-11, 2 2B
Murphy 3-7, 2B, 3B
Bay 3-6, 2B
Let's Go Mets!