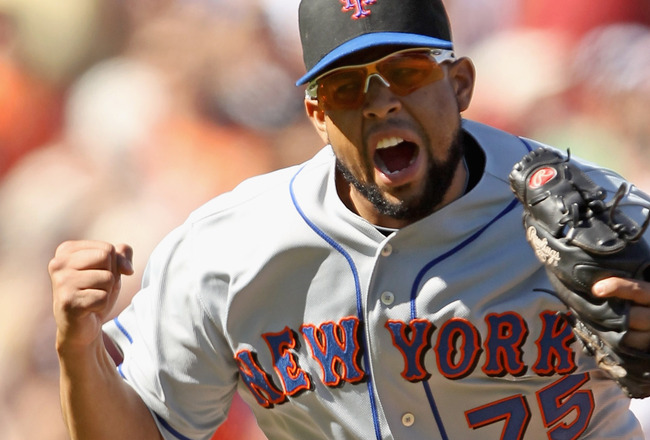 Last night, during the Mets/Dodgers broadcast on SNY, Sandy Alderson visited Ron Darling and Gary Cohen in the booth for what was supposed to be one inning. However the inning went by so quickly, Alderson was asked by Cohen if he could stay an extra half inning because he had more questions to ask. Alderson agreed.
Gary Cohen: It seems like there's a good chance, based on how Terry Collins uses Francisco Rodriguez, that he could essentially vest his $17 million dollar option very soon and still be with the Mets next season. That's not necessarily a bad thing, right? What are your thoughts on that?

Sandy Alderson: My thoughts are that I wish I didn't agree to stay another half inning.
To me, that lighthearted exchange was priceless and the best part of an otherwise ugly Mets loss.
Rodriguez is on a pace for a 45+ save season, but his WHIP and BAA have been a lot worse than what you would want from your closer.
But stats aside, if you consider where K-Rod has come from since his confrontation with the grandfather of his children in the Family Room at Citi Field, I find myself respecting the effort he has made to make amends and become a better person. He apologized to the team and more importantly to his one-time girlfriend and her father. He has settled the matter with them financially and has made all of his court appointments without fail. He has been diligent in attending and participating in the court appointed anger management classes and even tells friends he has a new outlook on life because of them.
Additionally, K-Rod has been a solid citizen in the clubhouse and a good teammate. K-Rod sees the writing on the wall and realizes this could be his last month with the Mets, and while he prefers to stay with the Mets, he has also said he won't let his no-trade clause keep the Mets from moving him if that is their intention.
Rodriguez has also said he would be willing to setup for his new team and give them a window to try and negotiate an extension.
He has been a good soldier.
Yesterday, K-Rod even endorsed reliever Bobby Parnell as his successor if the Mets trade him as many expect will happen.
"He can do it, and he knows it. I love that kid. I talk to him a lot, and I love him. He's a guy who comes here every day trying to improve himself to get better and better.  He definitely has the tools. He challenges hitters more and is locating his pitches better, that's the big difference."
Everyone makes mistakes in life. But apologizing for those mistakes always ring hollow, unless your actions can back it up. K-Rod has done that this season, and for that I respect and even applaud him.