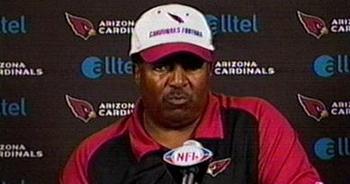 I remember Denny Green's blowup almost word for word because it's my second favorite unintentionally hilarious sports rant I've ever seen. I would love to have used my all-time favorite, I'm a man, I'm 40! but it was apropos of nothing regarding this post. After defeating the Astros this afternoon, the Mets have now completed roughly 25% of their season and have a 19-21 record after 40 games. They're tied for last in the division, but it's too early to look at standings. I generally don't look at standings for comparison, anyway. All the Mets should worry about is winning their games. If the Phillies or Braves or Marlins go 9-0 on a West coast swing, well good for them. Nothing the Mets could do about that. Yes, they're tied for last, but the two best records in the league and three of the five best are the three teams the Mets are looking up at. 6.5 games out of first place isn't as bad when you look at it that way. And the Mets are 4.5 games out of the Wild Card, even with the dismal pitching our fearless leader outlined here.
But the Mets, and their pitching, have been much better as of late. Since their lowest point in the season at 5-13, the Mets have won 14 of 22 games. What's changed? They're performing better, yes. But I think it's got much more to do with the schedule than it does the players. After going 5-13, the Mets reeled off six straight over the span of three series against the Astros, Diamondbacks and Nationals, then lost two straight series to the Phillies and Giants, won a series against the Dodgers, then the Rockies (only the second series win against above-.500 teams this season), and followed up with clinching a series win against the Astros again today. Add it all up, and the Mets are 8-14 against teams above .500 and 11-7 against teams that are below .500.
And they should be.
Before the season began, there were predictions abound. I've heard some predicting the Mets would win 73 games, and some that thought the Mets could put it all together and win 87 games. Some thought 87 wins could put the Mets in the Wild Card hunt, but the Phils, Braves, Marlins, Cards, Reds, Giants and Rockies scoffed at that sentiment and are doing all they can to put the Wild Card threshold at around 92 wins. Point of fact, the Wild Card winner in the National League has never won fewer than 88 games and has only won fewer than 90 just one other time.
If the Mets are going to win only 73 games, it would have to be because of injuries. That's not profound insight, that would be true of every team in baseball. But what makes it different for the Mets is that injuries to key players wouldn't be a surprise. Would anyone be surprised if Beltran or Reyes misses significant time? Was anyone surprised when Bay opened the season on the DL? Was anyone surprised Young went down for the year? This is much different than the key players on other teams expected to contend. Everyone would be surprised if Halladay or Lincecum or Uggla or Tulo or Pujols or Votto missed significant time.
For the Mets to win 87 games, everything would have to have clicked, and clicked immediately. And no team ever has perfect luck, so it was a stretch to begin with. Beltran and Reyes would have to play 150 games. Wright would have to put up traditional All-Star numbers, Bay would have to have rebounded, K-Rod would have to have put last season's end behind him, and Pelfrey, Thole, Dickey, Ike and Pagan would have to have improved on last season's forward progress. Beltran, Reyes, K-Rod and Ike have obliged. But Pelfrey and Pagan have been atrocious, Dickey's been only slightly better than that, Wright's mired in a two-month slump, Thole seems to have regressed and as good as Ike's been, his stupid mental mistake caused a DL stint that hurts the team. After a quarter of the season, it looks like the Mets can only dream about 87 wins and would need some Inception-style hocus pocus for a playoff berth to be considered.
This is not a turn of events, though. If you split the difference of 73 wins and 87 wins, you'd get 80 wins, two games under .500.  And .500 was always going to be this team's measure of success. As much as the handful of former All-Stars looked nice on paper, the entire 25-man roster would determine the success of the team, and you're just not going to get a whole lot from your team if you have to replace 12 players on 10-12 million dollars. The Mets are spending more on the two players they cut than on the 12 players they signed.
The Mets were always going to win 78-81 games, barring divine intervention. They're beating bad teams and losing to good ones. It's the mark of an average team. So the next time you want to throw something through the TV because the Mets lost to a good team, or puff up your chest because they beat a bad one, remember that the writing was on the wall before the first pitch was even thrown.