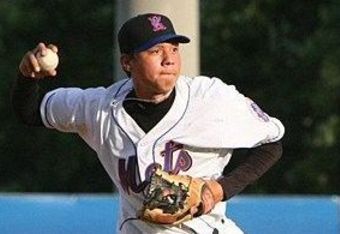 I couldn't help reading some comments Mets shortstop prospect Wilmer Flores made this weekend during an interview with a local beat writer who covers the St. Lucie Mets.
Most Mets fans must have heard at one time or another that scouts, analysts and baseball people are pretty much in agreement that Wilmer Flore will not remain at shortstop, and most likely will be shifted to third base or left field. In fact, Baseball America projects Wilmer Flores to be the Mets starting left fielder in 2014.
This debate has now been going on for more than two years, but Flores continues to call shortstop home.
Why?
If the Mets scouting department disagree with what has been said about Flores' inability to play shortstop, why don't they just diffuse the situation and simply say,  "we disagree. Wilmer Flores is our shortstop of the future".
If they don't believe that, then what are they waiting for to have him begin taking reps at third base so it won't be foreign to him if and when he's ever ready to be promoted to the big leagues?
On Friday, Flores himself said he would welcome a change to third base. He got to play third base for the first time during the Venezuelan Winter League season this past winter. His team shifted Flores ti third base during the second half of their season because they felt Flores was making far too many errors at shortstop. The switch worked and everyone was happy, even Flores.
"For me, third base felt so easy," Flores said. "I mean, it's not an easy position, but it was easier than shortstop. I feel comfortable there. They want me to play shortstop right now, so we'll see what happens."
Last season, Flores committed 26 errors in 132 games, and he is already on pace to eclipse that so far this season.
What are we waiting for?