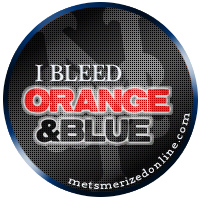 Last night I saw R.A. Dickey meeting with the press after the game – a tough loss. However R.A. makes no excuses – in fact after a couple of dreadful innings he shaped up and pitched deep into the game. This is no kid trying to get a place on a team, this is a grown man, father of four including a newborn who has a life outside of baseball as well. And is he moping at his locker?? No – he's telling the press that each player is responsible for the team as a whole.
Another real team member is Ike Davis – only 24 years old, but plays like a veteran. You won't see a Reyes move from Davis, nor should you. Ike is another serious player – he's fit right in at first base, playing it as though he was born there – and he almost was – Both Dad and Grandfather are baseball men – Dad played with Bobby Murcer on the Yankees and Grandfather played at various places. When he has questions or just wants to talk, Ike calls home. You can tell.
I think Carlos Beltran really has been helped by the chats he has almost daily with Terry – credit both of them for figuring out a workable plan for the veteran player. In fact I see a more relaxed Carlos these days, and he seems to be hitting more than a few balls out of the huge ballpark, too.
David Wright really never changes much – he's been a disciplined soul for a long time. I understand – I'm the eldest of two younger siblings and I've been through those issues. However, David merely switched his role and has been a steady hand on the rudder of this team since he got here. Always ready, is his motto.
Now Jose – the best player in Citi Field the moment he steps on to the field. Where David is cerebral, Jose is all reaction – movement and speed. Twas ever thus even when they kept him at Port St. Lucie in the early days and tried to change him. Not going to change. These days there are lots of rumors of his future. Don't mess with this – his future is here.
I'm also going to put a good word in for Sandy and Terry. Never have I seen such efficiency in a baseball office. Both are good natured and very well educated in the world of baseball and we are getting the results of all their good efforts.