Rather than post another Reyes blog, I thought I would simply add a small addendum to this one.
Ted Berg posted an interesting question on his blog Ted Quarters:
So I'm wondering what you think would be a fair price for an extension for Jose Reyes right now. Knowing that he can be awesome, but hasn't been for a couple of seasons… We don't have to make these decisions, which is good… But would you sign Reyes to, I don't know, a five-year, $90 million extension today? Would Reyes accept that, or would the allure of getting Crawford money on the open market be too great? What would the Mets need to spend to lock him up, and should they?
A 5-year deal for $90 million is actually a nice stab by Berg, and it would definitely do it for me, but would it be enough? Would it cost the Mets more? How much more?
What would be your best and final offer – your absolute cut-off that would make you say, "forget it, anything more would be too much?"
Original Post 3/6 10:00 AM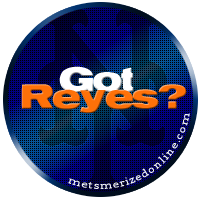 As some of you know, Metsmerized Online is a fan site and not a blog. What that means exactly is that we are not slanted one way or another. We don't have one point of view on any Mets issue, we have several. This site does not take on my own persona, all I do here is coordinate. We express all of the opinions of the fanbase and all are welcome to contribute to our thriving community that garners us over 130,000+ pageviews a day from nearly 12,000 daily unique readers so far in 2011.
So with that in mind, let me just just that I totally disagree with my colleague Craig on a number of issues regarding his post on Jose Reyes yesterday. While I do hold true to the fact that on-base percentage is an excellent tool for player valuation, and even more so when analyzing the effectiveness of a leadoff hitter, I don't believe for one second that it is the "end-all, be-all" in determining whether a player like Jose Reyes should be re-signed or simply allowed to walk at the end of the season. Let's just make that clear.
We've already read a thousand posts on this subject in the Mets blogosphere since the end of last season, and there will no doubt be at least a thousand more before all is said and done.
Jose Reyes is not just your typical player for the New York Mets. You can't just whisk him away the way we did Pedro Feliciano in the offseason. Jose Reyes has become iconic to the New York Mets. He is a homegrown talent who blossomed into super-stardom before our very eyes, and he did it while playing shortstop, a position that has been a black hole offensively for this franchise for nearly it's entire history.
Anyone who doesn't realize the stature that Jose Reyes has built among the Mets fanbase and in this sports mecca – New York City, is ill-equipped to understand the unique relationship a fan develops with those homegrown players that actually make it to the team, and then go onto exceed all of our expectations. It's a bond that is not easily severed, and I'm hoping and do believe that our general manager is fully aware of the uniqueness of Reyes' emotional attachment to this fanbase. Reyes is one of the few marketable commodities this team has. Thousands of Mets fans at every game show up wearing their Jose Reyes jerseys and other apparel. His face is emblazoned on every Mets marketing and promotional medium.
Sometimes managers and general managers say things just to get a rise out of a player. Just to give that player a kick in the ass or something to think about. The sole intent of what they say to the media is the hope that it gets back to the player and somehow motivates them to enhance and improve their performance and focus. Davey Johnson was a master at doing that, and Bobby Valentine was the absolute best at it. So lets not go ballistic and jump off the deep end every time we hear something from Sandy Alderson or Terry Collins, especially when their comments are pointed at a particular players performance in any one area of his game. In this particular case, Jose Reyes and any comments made from the front office about his on-base percentage. I hope Reyes caught wind of it, and I hope he takes it to heart and increases his OBP by 30 or more decimal points. But if by chance he doesn't, no way in hell are we gonna let him just up and leave at the end of the season… No way.
I'm even more dead-set against it after reading this particular quote from Adam Rubin this morning in regard to the upcoming new Collective Bargaining Agreement and the one thing the Mets would not dare endanger this year – the already sagging ticket revenue.
A couple of potential issues: Alderson may have more autonomy than previous Mets executives, but a white-flag trade at the July 31 deadline would be a further drag on attendance in the second half, unless the Mets got an exciting young player already having broken into the majors back. And given the seemingly dire financial issues, can the Mets afford to do something that further drains attendance, ratings and revenue, even if it is prudent baseball-wise?

Then again, the new collective bargaining agreement appears as though it may change draft-pick compensation, with teams only getting a created sandwich pick between the first and second rounds — and no longer getting the signing team's first-round pick. That means the Mets could lose Reyes as a free agent and only get a draft pick in the 31-40 range as compensation.
Believe me, most of all the leverage lies with Jose Reyes. I really felt that the new front office should have worked something out before the start of the season, because if Reyes runs like the wind and becomes the game-breaking, impact player we all know he can be, it's going to cost the Mets tens of millions of dollars more to keep Reyes right here in Flushing, where he belongs.
If he's wearing anything other than a Mets cap next season, there will be hell to pay from this fanbase.