So the Mets just signed Chris Capuano and Taylor Bucholz to add some more depth to the pitching rotation. Both of these are solid signings and may pay off in big ways.
Capuano is only a few years removed from an 18-win season, and Bucholz has shown he can be a valuable seventh or even eighth inning reliever.
For the most part, barring a rumored Chris Young or Jeff Francis signing for further insurance and maybe looking at some left-handed relievers, the pitching staff appears to be filling out.
It is now time to turn to the bench. The starters besides second base seem set, and even the players in competition for second base are already in house.
The bench depends a lot on who wins the second base job. Most likely, the runner-up in the competition will stick around to be the utility infielder. But as of now, there is a void in the fourth outfielder slot.
Before he established himself as a starter last year, Angel Pagan was the epitome of a fourth outfielder. He could play all three positions and play them well. He brought great energy whenever he started and was a valuable late-inning defensive replacement.
Also, his speed made him perfect for the role. He could pinch run, steal a base, and then remain in the outfield without losing that much. He was a solid contact hitter with a decent eye as well.
But now that he will be playing either right field or possibly center field this season, who will fill the role that Pagan played prior to last season?
Endy Chavez was available this offseason but signed a minor league deal to return to Texas. He has had injury troubles the last few years, but I would have liked to see him back in Mets uniform. He can run, he can bunt, and he has the potential to be one of the best defenders in the game (remember that catch?).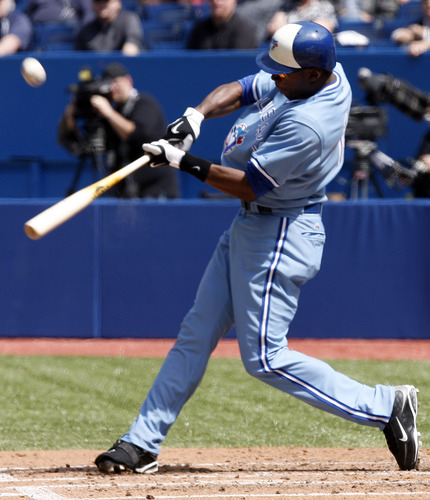 A name that has popped up is Fred Lewis, currently of the Toronto Blue Jays. He saw significant action last year and played rather well. In 110 games, he hit .262 with eight HR, 17 SB and 70 runs scored.
The Blue Jays acquired speedster Rajai Davis from the Athletics this offseason and look to have a set outfield with Davis, Vernon Wells and Travis Snider. The need for a fourth outfielder in the AL is not as great as in the NL.
Lewis reminds me much like Pagan. He has good speed, plays good defense, has a little pop and plays better when given more opportunities.
Though the current Mets outfield should hopefully produce and not need too many days off, an injury is bound to occur. Carlos Beltran hasn't played a full season since 2008, Jason Bay is coming off an injury, and last year was Pagan's first full season.
Lewis would be able to fill in nicely should an injury occur. However, that would only be a temporary solution, unless of course Lewis plays like a stud.
If one of the starting outfielders goes down long term, I would rather see Lucas Duda or, dare I say, Fernando Martinez get the bulk of the duty.
Fred Lewis would make a solid addition for this team and fill a very important hole for an NL ball club.