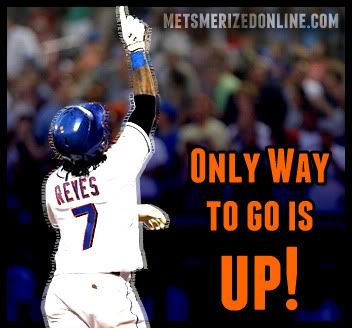 The legend of R.A. Dickey continues to grow after pitching another masterpiece tonight in the Mets 5-0 shutout over the Tigers. Jose Reyes ignited the offense again with a huge game that included his sixth home run of the season.
Game Summary
Dickey just continues to dazzle everytime he takes the mound, confounding hitters with his formidable weapon, the knuckleball. Dickey pitched eight solid innings allowing just four hits and two walks while striking out four batters. It was the sixth win in a row for Dickey, a new Mets record, and his record now stands at a perfect 6-0 with a 2.33 ERA that is equally impressive.
I have no idea why Jerry Manuel didn't allow Dickey to pitch the ninth inning when he had only thrown 97 pitches and was still dealing after completing the eighth. He looked a little frustrated by the decision in the dugout and didn't smile when his teammates came over to congratulate him.
Frankie Rodriguez completed the ninth, allowing just one base hit. The guys in the booth seemed to think he needed the work, but I would have let Dickey go for the complete game shutout.
Speaking of the booth, Jerry Seinfeld called some of the game and it was plainly clear he was wise to pursue a career in comedy rather than as a sportscaster. Still, he was pretty funny at times and overall pretty entertaining.
Jose Reyes was a one-man show on offense tonight. He fell just one hit short of the cycle with a single, a triple and home run, his sixth of the year. He also stole a base. Reyes is such a catalyst… He just goes out there and plays full throttle all the time… You must never miss one of his at-bats because you have no idea what he'll do next. The dude is amazing!
Pagan went 0-2, but more important than that, he left the game with an injury that is now being called a right abdominal muscle spasm. Jerry Manuel told reporters after the game that it was best to take him out, and that he'll probably give him a day off tomorrow. Whew!!!
Ike Davis went 2-4 with two RBI's coming on a bases loaded hit in the seventh inning. David Wright also had an RBI driving in the first run of the game, and took over the National League lead with 56 RBIs.
Sponge Worthy Game Balls
Tonight we award Game Balls to both R.A. Dickey and Jose Reyes who were each extremely worthy of the honor. Dickey for earning his sixth win of the season, becoming the first Met to win his first six games to start his Mets career. And of course, the Amazin' Jose Reyes went 3 for 4 with three runs, 1 RBI and a stolen base. Can you say 'muy caliente'!
Next Game
The red hot Mets will go for the sweep against the Tigers tomorrow at Citi Field. Hisanori Takahashi (6-2) will face Armando Galarraga (2-1), who was the poor soul who was recently denied a perfect game thanks to that bad call by the ump. The game begins at 7:10 pm.