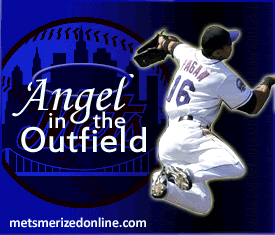 As last season came to a sad close, many of us pushed back our tears and wondered out loud, "How could this have happened to us". We searched for answers, but there were none that can console us. We were broken and we needed someone or something to restore our faith.
January 5th seemed just like an ordinary day. Most of us were still feeling down, and so far the off season had not been what any of us had hoped for. Yet on this day, Omar Minaya traded two obscure minor leaguers to the Cubs for outfielder Angel Pagan. Pagan was no stranger to the organization as he had been originally with the Mets going back to the 2000 season when he batted .361 in 19 games for the Kingsport Mets. Still, the trade seemed so insignificant that many Mets fans simply brushed it off with little if any thought or consideration.
Sometimes, it's those little things that can make the biggest impact in our lives. The same is just as true in this wonderful game of baseball.
As pitchers and catchers reported later on in February, a few of the regular players trickled in along with them. Of course there was David Wright who always shows up early, and newcomers Ryan Church and Brian Schneider were also there. But, shagging fly balls in the outfield was the prodigal son Angel Pagan, who was just as ready and excited for this new season to get underway. He was given no guarantee of making the team but was promised a fair shot at becoming the fifth outfielder on Opening Day. The odds were stacked against him, but Angel was about to do the unlikely and beat the odds.
In what can only be described as a phenomenal display of extraordinary determination, Angel went on to lead the Mets in runs scored, hits, triples, stolen bases, total bases and yes, even RBI. And while some may argue and question some of the final spots that were decided on the 25-man roster, there was no question that Angel Pagan had earned his way to the big league roster. In fact, he would open the season as the starting left fielder due to an injury to Moises Alou.
His amazing journey would not stop there.
Angel Pagan steam-rolled his way into the regular season with an electrifying bat, a refreshing exuberance, and a sheer determination that has not been seen on the Mets since before last years All Star break. He yields a quick bat, a trained eye, deceptive speed, and the baseball experience of a 20 year seasoned veteran. The 26-year old switch hitter is a Godsend. Despite leading the Mets in almost every offensive category so far in this young season, it wasn't until Thursday night against the Phillies that he etched himself into the hearts of Mets fans everywhere. With one stroke of the bat he became one of our own. Now we all are wondering what happens when Moises Alou returns.
Will the Mets actually bench their hottest and most consistent hitter at a time when they struggle to score runs?
It's a question that the Mets will face in as little as 2-3 weeks, and the answer to that question is one that will be debated with plenty of fervor.
As for now, lets be thankful for what we have in Pagan, and enjoy the play of one Met who is unblemished by last years quandary. I truly believe this Angel was heaven-sent.