Phillies shortstop Jimmy Rollins has been awarded the NL MVP award for 2008. The race was close and there was never really a for sure winner until it was announced today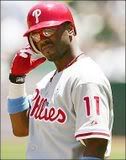 at 2 p.m. Matt Holliday and Prince Fielder were the other two candidates, and some might even say David Wright. Although most of us knew the Wright was out, when the Mets went out.
Nevertheless, the league has made its decision and Jimmy Rollins it is. He received 16 of 32 first-place votes and finished with 353 points in balloting by the Baseball Writers' Association of America.
Rollins became the first player in history to collect at least 200 hits, 25 homers, 15 triples and 25 steals in a season. On the season, the switch-hitter batted .296, with 38 doubles, 20 triples, 30 homers, 94 RBIs, 41 stolen bases, 212 hits and 139 runs scored.