I can't believe we are at the end of yet another year at Mets Merized Online. 2011 was a wonderful year for our site as we continued to grow far beyond my wildest expectations. I only wish that our beloved Mets was experiencing the same success as we are currently enjoying, but I assure you better days lie ahead for our Amazins'.
In 2010, we ended a great year with an average of just over 9,000 unique readers per day and over 185,000 daily page views. In 2011, we set new highs with over 11,750 unique readers per day and an average of 290,000 daily page views. That's over a 30% increase in readership! December will end up being the best month we've ever had averaging nearly 12,600 unique daily readers per day.
I have no idea when we will finally plateau, but this has been one heck of a joyride – thanks so much!
Our Twitter readership in now up to nearly 3,500 users after gaining over 1,000 new followers in 2011. You can follow us on Twitter at @metsmerized. After ignoring Facebook for the last 4-5 years, we decided to become more proactive. Since adding a a new Facebook administrator  a couple of months ago, we've grown to over 1,000 friends in a very short amount of time. You can Like us on Facebook by clicking here.
Of course all of this traffic led to incredibly high bandwidth usage and steep charges that necessitated some drastic changes to our site and a call for help to keep the site going. But thanks to the aid of many of our loyal and longtime readers, we were able to get through a very rough third quarter.
Specifically I want to thank and recognize the following readers: Desmond Loughman (Des), Bayonne Met Fan, Met Maniac, Eileen Curiel, Peter Shapiro, Joseph Fiumara, Donal Murphy, Alex Urena (Alex68), Kathleen Eltman (Kay), Mike Ollila, Mike O'Leary (Metsie), Raymond Arendt, Gary Borofsky, Paul Nassau, Michael Branda and XtreemIcon for their generous donations. There are countless more who gave all they could in smaller amounts of as little as $5.00 and I was as humbled and grateful for them as well.
It was an incredible feeling to experience the tremendous response and show of support we got after I posted my plea for help back in September. Those donations kept the site going for the rest of the year and well into the new one that begins in less than 12 hours. Some sites like to boast about how loyal their readership is, but here on MMO our readers proved that in the most amazing, profound and heartfelt way. Thank you all for that.
We have a brand new design that we rolled out in mid-September, thanks to my longtime partner and best friend, Kelly Horn. While they pay Kelly incredibly well as a production manager and head of the graphic design team at her day job, I am fortunate enough to have her amazing talents here on MMO for absolutely no cost at all. She works her magic day in and day out on our site and is responsible for keeping the site running as smooth as it does. She's an awesome person to know and I just want to thank her for everything she does as our designer as well as her other duties as site administrator and one of it's senior editors. The new design is faster, sleeker, cleaner and optimized.
* Those of you who access our site with your mobile and smart phones, welcome to our brand new mobile version of the site. 🙂
That has been our logo ever since we began this journey seven years ago. And while a lot has changed since then, we have never strayed from our goals or felt the need to re-invent ourselves. We have remained exactly as what we started out to be all those years ago, and that is to become a Mets fan site where all opinions can be shared regardless of your point of view. There are more than enough Mets niche sites that are centered around one mindset, aspect or philosophy – we wanted to be more than that.
Mets fans come in all shapes, sizes, colors, backgrounds, etc. and we wanted to create a site that reflected that more than anything else. Our goal has always been to create a vibrant and thriving community for honest and passionate baseball and Mets debate and I believe we have achieved that. Does it get a little "too passionate" sometimes? Yes, no doubt about that, but I wouldn't really want it any other way.
A blog is only as strong as it's readership and we fully understand that our readers are our lifeblood. Me and the rest of the bloggers here on MMO feed off of your interaction and together we create one of the most diversified Mets communities on the web. What we have is very special to me and I'm reminded of that every time I get an email from someone who loves the site.
While our readers are our lifeblood, the heart and pulse of MMO has always been our bloggers. When we first launched MMO we began with what I called the Magnificent Seven. We started out with a Mets reporter, MLB reporter, Mets minor league guy, and four very passionate and very opinionated Mets bloggers. Since then we've had over 100 different Mets bloggers who have shared their opinions on MMO. Currently we have 31 active bloggers and that doesn't include the dozen or so readers who frequently submit Fan Shots. That's a lot of content!
From the very start, we always made one thing clear on MMO and that is that each post would be a substantial one and worthy of debate. We don't just post links or quotes as stand-alones. We don't post photos and then hit the publish button, but we do create our own Mets art and graphics and share them freely with all of our readers and even the players who we send many of our graphics to.
We don't have any posting quotas on MMO and that's why on some days you'll see five posts and on other days you'll see a dozen. We write only when we have something to say. We believe that content is a huge part of our success, but that most of it must be original, insightful and opinionated. We have a couple of writers who cover all the Mets news for us so don't worry about missing anything important, I promise you that you won't.
We have assembled such a great team of personalities and all of them bring so much to the table. Most of our writers are middle-aged and go back to those seventies Mets teams, but we also have a few youngsters and senior citizens to round out the group and give our readers some rare and unique perspective.
We hardly ever agree on anything, but that only adds to our character and our brand. I can't thank our writers enough for all of their contributions. They are the most amazing group of Mets fans I know and words alone are insufficient to say how proud I am to have them as part of our team. I will toast to all of them tonight at midnight and wish them all the best in 2012.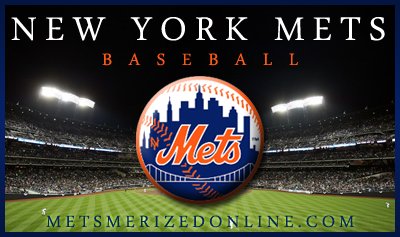 And finally, that brings us to the Mets. It was another rough year for the Orange and Blue, but lets not forget the many positive developments that came along with the not so positive ones. We've seen some players emerge and we can all agree that there is some great talent in the minors yet to come. It's sometimes difficult to ignore the pink elephant in the corner when we talk about the Mets, but we have always been an inherently optimistic and hopeful bunch. No matter how bad things get, we still watch every game and wonder if this will be the first no-hitter. We still tune in and root hard for our players who give it their all day in and day out. We are as amazin as the team we love, and I can promise you that things will get better… They always do.
I want to thank Sandy Alderson, Paul DePodesta, Dave Howard, John Ricco, Jay Horwitz, Danielle Parillo, Shannon Forde and Ethan Wilson of the New York Mets for making MMO feel important and like we belong.
I also want to thank all the Mets players from Kingsport and Savannah to Binghamton and Buffalo and all the way up to the big league team in Flushing, who took the time to talk to us this past year and gave a richness of insights to our readers. We've interviewed over two dozen players in 2011 ranging from an original Met, Eddie Kranepool, all they way down to the newest Mets like Brandon Nimmo and Michael Fulmer. Thanks for everything guys!
So, here's to a great 2012 for all of us and especially for our beloved New York Mets.
Here's to a year full of great Mets memories and thrilling victories.
Happy New Year everybody and Let's Go Mets!