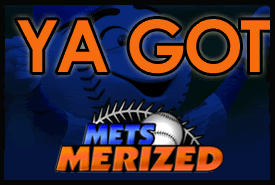 Willie Harris pulled a Tug McGraw before one of the games in Cincinnati and shouted out "Ya Gotta Believe!" after Terry Collins had addressed the team.
Harris told his teammates that this season was far from over and that the odds the Mets could rally to make the playoffs were very good.
He even joked and said, "then we can knock out Carlos Beltran's San Francisco Giants off in October."
"I mean, how cool would that be?" Harris asked. "We trade our best hitter and then we send him home. That would be pretty cool. We keep playing good, we might sneak in there. Who knows?"
I agree with Harris and as I wrote the other day, I hope Sandy Alderson isn't done wheeling and dealing and that he tries to add a player or two that can help solidify the Mets chances to shoot for that Wild Card. Why not?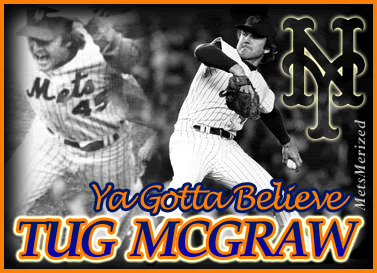 I read the following in the NY Post today who reminds us of how things were back in 1973 when Tug McGraw belted out what would be this team's rallying call.
Exactly 38 years ago today, July 29, 1973, the Mets lost to the Expos, 6-4. They fell to 44-54 on the season, last place, nine games behind the first-place Cardinals, and it got worse. By Aug. 5, they were 12 under, 11½ games out, five teams sitting between themselves and St. Louis. We know how that turned out.
And let me add that back then, the Wild Card wasn't even a glimmer in Bud Selig's eye…
Look, I know the odds are long, but haven't they always been for our Mets? Hasn't every great moment in our team's history relied on some divine intervention (and front office intervention) to make it happen?
Yes, we are in third place in the NL East and have no chance of catching the Phillies, but the wild card is only 6.5 games away. That is hardly an unreachable star.
With losses to both Chipper Jones and Brian McCann, the Braves have no thump in the middle of their line-up and are purely reliant on their pitching for the next 4-5 weeks. That could be all the opportunity the Mets need to make their move. But they need a little help…
I'm not ready to forget this season and spend countless hours salivating about a potentialy solid rotation in 2014 that may or may not never happen. I'm still concerned with 2011. I owe that to the players.
Hey look, you can do whatever you feel like doing…
You want to tune this season out and focus on an unknown future, that's fine by me. All I'm saying is that I'm not ready to call this a season, and I hope our front office feels that way too.
Stop staring down from the owners box and throw this team a bone Mr. Alderson. They are busting their tails for you. Reward them with something – a reliever – a bat – anything – just show us you meant it when you said "this season is not a throwaway".
Show the fans that you still believe in 2011.
Obviously, we all know how the players feel… They Believe…That's How They Roll…