Like any other major league bench, many of the Mets reserves have already been pressed into some regular duty due to injuries or giving a slumping regular some time off.
Last year, general manager Omar Minaya caught a lot of heat for lack of a strong bench and also having poor depth at several key positions. Has that changed for the better under this new front office or are things worse?
It's been well documented that new GM Sandy Alderson had little to no flexibility as far as adding additional dollars to an already bloated payroll. He had a very difficult task trying to fill a dozen spots on the 25-man roster and doing it with less than $15 million dollars.
One thing Alderson didn't have to worry about was adding any starting position players. The Mets were already set with Jason Bay, Angel Pagan and Carlos Beltran in the outfield, while the infield featured Ike Davis and David Wright at the corners, Jose Reyes and Daniel Murphy in the middle, and young Josh Thole behind the plate. All that was left to do offensively was to build the bench from scratch, and luckily most teams can still do that on a shoestring even in these days of $150 million dollar mega-deals.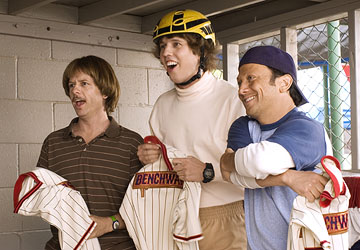 The Benchwarmers
One of the first things Sandy Alderson did this offseason was to sign Ronny Paulino to be Thole's caddy behind the plate. It seemed like a solid choice given his success against LHP in his career, but complications from his PED suspension and various injuries have delayed the start to his season, and Mike Nickeas has had to fill his shoes.
The Mets also traded minor league pitcher Tobi Stoner to acquire utility infielder Chin-lung Hu from the Dodgers. Not known for his bat, Hu had a solid reputation as a defender and was one of the new faces who didn't have to battle for a job this Spring as the team was intent on bringing him up north.
While many believed Nick Evans would finally get some significant time on the major league roster this season, Alderson decided to take a pass and signed outfielder Willie Harris and Scott Hairston instead to fill the reserve outfield spots. Hairston's contract was guaranteed which assure him of a spot on the 25, while Harris had to battle against Lucas Duda for a spot on the bench. As it turned out, they both made the Opening day roster when Bay came up lame.
Then there was that odd second base battle featuring Rule 5 pick Brad Emaus and holdovers Daniel Murphy, Justin Turner and Ruben Tejada. Emaus was one of the most talked about acquisitions of the offseason and you couldn't go a day without running into 2-3 articles extolling the virtues of the Blue Jays farmhand. The talk was that he was a future stud and some sites even went as far as ranking him among the Mets top five prospects. Two weeks after the season started, Emaus was gone and Daniel Murphy, whom I preferred all along, took over at second base, with Justin Turner as his backup and quasi-platoon mate.
Now judge the results:
When Spring Training started, Ted Berg of SNY.tv mentioned in one of his videos that besides the injuries, the reason the Mets were so awful last season was because we had too many awful players. No arguments there.
Our bench was one of the worst I'd ever seen and at one point or another we saw players like Frank Catalanotto, Alex Cora, Gary Mathews, Chris Carter, Mike Hessman and Fernando Tatis getting playing time last season. Who can forget Mathews batting leadoff and Catalanotto batting cleanup?
Thankfully, all those players are gone now, but I'm having a difficult time believing that we are any better off with this new cast of characters.
It's still early of course, but that's still 203 at-bats of some pretty terrifying numbers. It's not just bad, it's down right scary.