Joe D
I'm a lifelong Mets fan who loves writing and talking about the Amazins' 24/7. From the Miracle in 1969 to the magic of 1986, and even the near misses in '73, '00 and '15, I've experienced it all - the highs and the lows. I started Mets Merized Online in 2005 to feed my addiction and interact with other passionate Met fans like you. Follow me on Twitter @metsmerized.
Joe D's Latest Posts
Mets GM Sandy Alderson held a conference call today to officially announce the acquisition of RHP Zack Wheeler from the Giants in exchange for Carlos Beltran and cash considerations.  - The Mets are done dealing so don't expect any last minuted deals at the buzzer before the trade deadline expires on Sunday night at midnight. Alderson is fully […]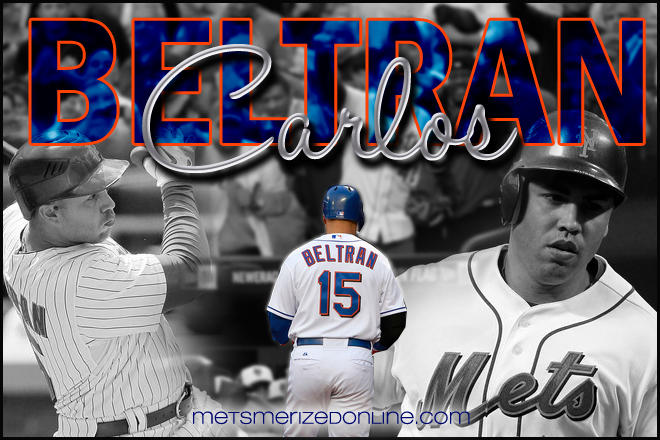 The New York Mets today announced that they have acquired minor league righthanded pitcher Zack Wheeler from the San Francisco Giants in exchange for outfielder Carlos Beltran and cash considerations. Wheeler, the Giants' first-round selection and the sixth player picked overall in the 2009 First-Year Player Draft, is 7-5 with a 3.99 ERA (39 earned […]
It's probably not a surprise to those of you who know me, that the word of Carlos Beltran's impending trade broke my heart in two. Carlos is the reason I fell in love with baseball. It wasn't just his smile or his stats, it was the way he played the game. I had never seen […]
Joe Petruccio who does an incredible job covering the Mets day by day with his art on his website My Mets Journal, does an outstanding job capturing the sentiment of the Carlos Beltran trade. Great Job, Joe… You nailed it! Make Joe's website My Mets Journal, a daily stop Mets fans!
Wheeler has two pitches that could surface as plus, in his fastball and curveball. The changeup I saw doesn't look like it will be more than a slightly above-average pitch. He could use more seasoning with his changeup as well as his command, but he could be a back-of-the-rotation starter in the big leagues tomorrow. His […]
I just read a new post on MetsBlog which jumped out at me this morning. In a post entitled, "The Mets shot down trading Jose Reyes for Erick Aybar', Matt Cerrone writes: The Angels offered to send SS Erick Aybar to the Mets for Jose Reyes, while taking on all of Jose's remaining  salary, but […]
Game Summary The Mets beat a defensively shoddy Reds team on Tuesday night by the score of 8-6 and climbed one game over .500 for the season. Cincinnati committed three errors and allowed the Mets to score six unearned runs, but hey – a win is a win. Game Notes Jon Niese started for the Mets and allowed […]
The Mets have just reported that injured ace Johan Santana, who is recovering from shoulder surgery, will make his first rehab start with St. Lucie this Thursday. Santana is expected to throw about 45 pitches and a detrmination as to another start will be made after they see how his shoulder responds in the days following. It […]

The reporting on the Carlos Beltran trade front is now so full of mindless ramblings that it has become too difficult to separate the fact from the fiction. It has deteriorated into a non-stop barrage of endless speculation, passed off as facts, from about a dozen different sports journalists all caught up in a manic, never-ending game of […]
Jerry Crasnick of ESPN.com, says he has seen no sign the Mets are dropping their asking price for Carlos Beltran. [blackbirdpie url="https://twitter.com/#!/jcrasnick/status/95593813665517568"] I thought they would get real and try to get something done before more teams become disinterested. But, so much for that theory… Original Post 7/25 12:30 PM Last week in a post I wrote […]
Ken Rosenthal of FOX Sports, explains that the New York Mets are demanding such a high price for Carlos Beltran because A) he is the best hitter available and B) some suitors indicate a willingness to part with good prospects. He also suggests that a deal can be expanded, and the Mets can include additional players beyond […]