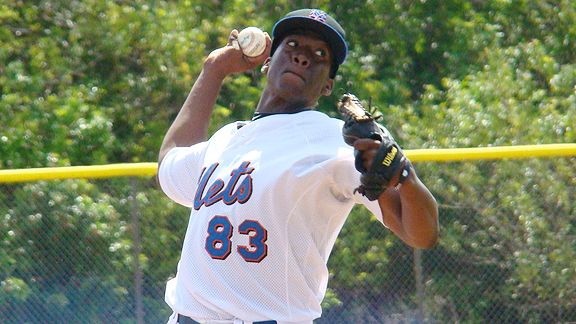 I was able to interview Akeel last week and he was nice enough to answer some questions for our readers. This is what he had to say:
Petey:  First of all Akeel, congratulations on a terrific season in 2011. Your development over the last two seasons has been fun to watch and you have been making great progress. Thank you so much for sharing a little of your time. The readers at Mets Merized Online will really enjoy reading about you and getting to know a little bit more about one of our future Mets. When the Mets drafted you in the 10th round of the 2010 MLB Player Draft, how did you first hear about it, and what was that feeling like?

Akeel:  When I was drafted, the first person I heard it from was from my mom. She was following the draft all day. I felt pretty good about it at that time because I know I had an opportunity to play pro baseball now.

Petey:  Is there one person, a coach, a friend or family member, or even another player, who you learned the most from, or who inspired you to chase your dream of becoming a major league baseball player?

Akeel:  I wouldn't say there was one person in particular because I learned alot of different things from alot of different people. As I was growing up my family and best friends inspired me to chase the dream.

Petey:  We have heard that you throw very hard, and your K/9 of 10.5, would seem to indicate that as well, but could you tell us a little more about your arsenal? What pitches you throw, at what speeds, and are you working on any new pitches moving forward?

Akeel:  As of now I'm throwing a fastball, curveball and a change up. My fastball is usually low to mid 90's, it peaked at 96 this season. Curveball is mid to upper 70's, and change up is upper 70's to low 80's.

Petey:  Quite a bit of positive things happened for you in 2011, as a member of a very strong and talented starting rotation at Kingsport. You led the team in strikeouts, and were very difficult to hit, giving up only 30 hits in 51.1 IP, but also had a high number of walks with 38. What steps are you taking to cut down on the bases on balls?

Akeel:  I'm working on repetition of my mechanics. That should help alot.

Petey:  What kind of things will you do to stay in shape over the winter? Can you describe your workout regimen? Do you plan on playing winter ball?

Akeel:  To stay in shape I'll basically do the traditional running, agility, upper body exercises, lower body exercises, and core. I don't think I'm playing winter ball right now.

Petey:  What was your favorite baseball team growing up? Your favorite player?

Akeel:  My favorite A.L team was the Red Sox and my favorite N.L team was the Mets. Favorite player was Derek Jeter.

Petey:  Is there a major league pitcher that you think you are similar to in style? Or someone that you can see yourself pitching like someday in the majors?

Akeel:  Well, I like to see Tim Lincecum pitch. I like his dominant fastball and his curve ball and change up that he can both use as put away pitches. He's someone I would like to pitch similar to.

Petey:  What are your goals for next season? Is there a particular club you hope to make out of spring training? Have the Mets made any indication of what they are planning for you next season, or are those things decided in ST?

Akeel:  For next season my goals are just to perform at wherever the organization decides to put me. I don't know when or how the decisions are made.

Petey:  Pick one teammate that really impressed you with his play this year at Kingsport, and tell us what it was that made you take notice.

Akeel:  Its really hard to pick one teammate, of all my teammates, who I was impressed with for different reasons. I would say I was most impressed with Dustin Lawley for his power, speed, athleticism, and ability to play infield and outfield during the season.

Petey:  And to finish up Akeel, just a little personal info, not pertaining to baseball. What is your favorite movie? Favorite musician or band? Favorite food?

Akeel:  Well, my favorite movies are the five Fast and Furious movies. I listen to alot of different types of music so I won't say I have a favorite musician, and my favorite food is rice and chicken.

Petey:  Thank you so much Akeel! Mets fans everywhere will love reading this interview, and we all really appreciate you taking the time to chat. Enjoy the rest of the off-season, and we'll see you in the Spring!

Akeel:  No problem, thanks for the opportunity.
I recently ranked Akeel Morris as the Mets #18 Prospect which you can read here.
You can also check out some of these other recent interviews conducted exclusively for Mets Merized Online: RHP Michael Fulmer – OF Brandon Nimmo – OF Cory Vaughn – RHP Chris Schwinden – 2B Josh Satin – LHP Eric Niesen.