Poor Terry Collins. He seems like a manager who's become totally fed up with how his team has performed as the season winds down. Before the game he had this to say:
"I want to see some fighting in what's left, I want to see some, we use the term loosely but I want to see some grind-out at-bats, I want to see some guys down 0-2, fouling off some tough pitches and be disciplined enough to get back in the count. I want to start seeing aggressiveness on the defensive side of the ball instead of being worried about making a mistake."
Collins addressed reporters again after this afternoon's 10-1 loss to the Nationals who swept the four-game series from the Mets. This time Collins was a few more shades redder and I could swear I saw some steam coming out of his ears.
I'm the manager and I'm responsible for what this team does and doesn't do. This is awful. We didn't manage, we didn't coach, we didn't play. Our fans should be upset, they have every right to be because it looks like we've folded up. That's not the way I play this game and I will not stand for that. I don't care what the situation is or what the standings say – we have to play this game right. You want to see intensity and believe me you guys are gonna see it. I don't want to hear excuses that the players are tired. Hey you know what, the Nationals are tired too and they are playing for the same thing we are – pride. If we are gonna fold up like this now, how are we gonna react when we are actually fighting for something? Things are gonna change. I don't know what the new formula will be, but I got a long plane ride to figure it out."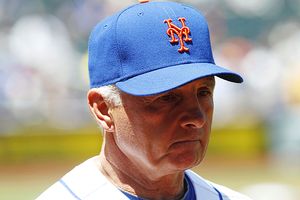 You gotta love Terry. He doesn't go out there like Jerry Manuel and Willie Randolph used to and defend failure and losing efforts. (I trust my guys, I stand by my guys, They were just a little tight today, etc.)
The Mets look lifeless out there and like their just going through the motions. The errors in the field along with the mental lapses on the bases and at the plate are getting to be a bit much.
Citi Field looked like a graveyard today, devoid of life and just drab.
This was a learning year for Collins and for us too.
I hope he will reward those who went full tilt for him and hold those who didn't accountable. I don't want to see Terry to do what other managers have done before him, and that is to just become complacent and accept the Mets bad play as just the way things are around here. I don't want to see him sweep all the things that need to be addressed swept under the rug like we've all seen before.
He's had a year to work with these guys, and next Spring I hope to see the same kind of inspired play we saw glimpses of back in May and June on a more permanent basis and for all 162 games of the season.
I want some accountability.