Joe D
I'm a lifelong Mets fan who loves writing and talking about the Amazins' 24/7. From the Miracle in 1969 to the magic of 1986, and even the near misses in '73, '00 and '15, I've experienced it all - the highs and the lows. I started Mets Merized Online in 2005 to feed my addiction and interact with other passionate Met fans like you. Follow me on Twitter @metsmerized.
Joe D's Latest Posts
"Happy Halloween, everybody. I just want to be the first to let Yankee fans know that we agreed to a contract extension. I'll be coming back in 2012. I want to thank the Steinbrenner family for making that happen. My goal the whole time was to finish my career as a Yankee and hopefully I […]
"There are better fits, places that give him a better chance to win, probably. If he really loves playing for the Mets, maybe he'll give them a discount, so to speak, or work with them. Bit it's his first go-round. It's gonna be hard for him to take less money."  ~  David Cone "Whenever a […]
"We've got four or five guys that I would call 'above the line,' that we could go into the season with, in the rotation…We have far fewer than that in the bullpen right now." ~ Sandy Alderson You're squinting your eyes, scratching your heads, and  wondering what the heck that means aren't you? A new […]
The Mets officially announced Monday that they will move in portions of Citi Field's outfield fence next season, lower the height of the wall in left field and paint the entire fence blue. The changes will result in approximately 140 new seats, including roughly 100 in left-center field and 40 in an expanded Modell's Clubhouse […]
This from Adam Rubin: So Reyes will in fact go into free agency with nary an offer from the Mets confirming an earlier report to that effect from Adam Rubin and Andy Martino. The Wright thing sounds about right. Looking forward to seeing what he means by not punting in 2012. Fielder? Wilson? Big trade? […]
In a word, no. Andy Martino of the Daily News wrote that a team source indicated that Willie Harris and Scott Hairston will not be re-signed until much later in the off-season, if they are re-signed at all. Martino adds that Harris became a clubhouse leader and one of manager Terry Collins' favorites and that a return is likely. I read stuff […]
Jose Reyes, Scott Hairston, Willie Harris, Chris Young, Chris Capuano, Miguel Batista and Jason Isringhausen were among the 148 players who filed for free agency today. The Daily News reported on Friday, that the Mets will not re-sign Reyes during their exclusive negotiating window which expires on Thursday, November 3rd. Instead they intend to let other teams set the market for the NL Batting […]
As expected, the Milwaukee Brewers declined the $17.5 million mutual option on former Mets closer Francisco Rodriguez. K-Rod's deal was reworked shortly after he was traded from the Mets during the All-Star break, changing it from an option that would have become guaranteed had he finished 55 games to a mutual option. Rodriguez was used primarily as […]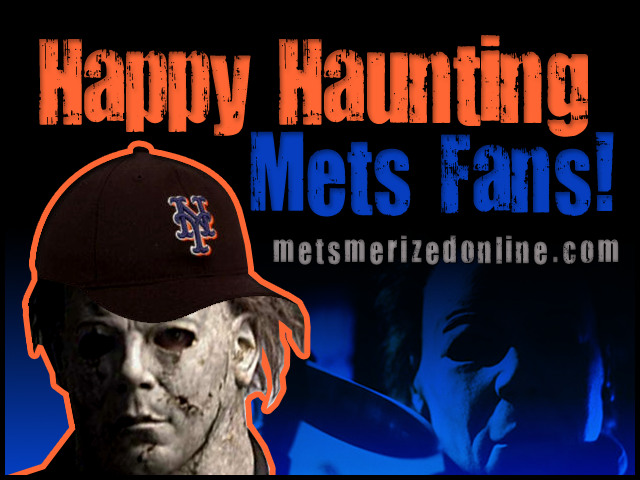 I just wanted to wish everyone a Happy Halloween from all of us at Mets Merized Online!