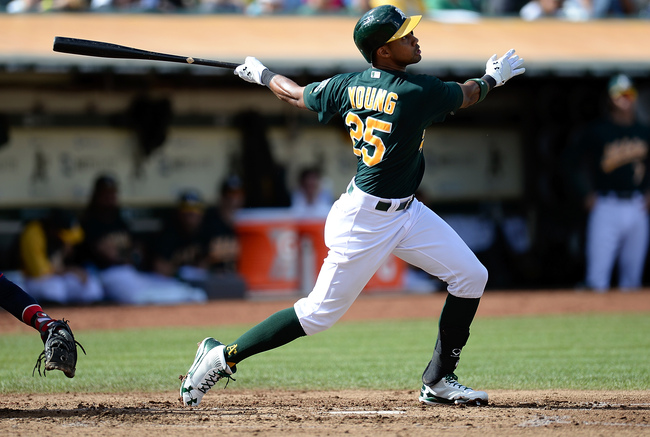 The Mets surprised the baseball world by making their first major league free agent signing of the offseason, inking outfielder Chris Young to a one-year, $7.25 million contract. The Mets now get a right (or left, depending on who else they acquire) fielder for Opening Day. While $7.25 million may seem to some like an overpay, especially considering Young batted a career-worst .200 this season with Oakland, this deal may actually be looked at, when it's all set and done, as a steal for the Mets.
Young, 30, was sent to the Athletics before this season in the three-team deal that sent him to Oakland, Heath Bell and Cliff Pennington to Arizona, and Yordy Cabrera to the Marlins. Young's numbers had been boosted slightly by the hitter-friendly Chase Field, adding roughly 70 points to his OPS away from Arizona. Nonetheless, he was a threat no matter where he went. From 2007 through 2012, Young averaged 22 home runs, 18 stolen bases, and a .239/.318/.438 slash line, coming out to a 95 OPS+. His stolen base threat and baserunning skills made him an above average offensive player. In fact, Young provided Gold Glove-caliber defense in center field, and although he will likely play a corner outfield spot with the Mets, it i believed that his defensive skills will transfer over to wherever he plays.
This season, hampered by injuries and getting inconsistent playing time, Young badly struggled. He finished the year with a meager .200/.280/.379 slash line with 12 home runs and ten stolen bases in 375 plate appearances. It's easy to get down on the Young signing for this season, but there is even more to be optimistic about. Young's BABIP (Batting Average on Balls In Play) dropped to .239, 39 points below the .278 mark he had up until last year. This probably wasn't due to any major mechanical changes in his swing. Young's batted ball breakdown, walk, and strikeout numbers indicate that he is the same hitter he always was. Take a look:
There are a few minor changes, but that's what you'd have to expect. He isn't all of a sudden striking out seven or eight percent more than ever before.
Young's projections for next season look promising, and have him pinned as someone who will be well worth his $7.25 million salary. The Steamer projections have him hitting 14 home runs, stealing ten bases, and hitting .228/.315/.408 in only 434 games. Project the home run and stolen base totals out to 550 plate appearances and he has totals of 18 and 13. Spread out his projected 1.8 fWAR over 550 plate appearances and his value is up to 2.3 wins, worth more like $11 or $12 million as opposed to $7.25. Keep in mind he is 30, not 35, so this kind of season is more than possible. In fact, with Young's track record, he is more likely to bounce back than to flop.
In comparison to other deals being signed, this one is a bargain. Marlon Byrd signed with the Phillies for two-years and $16 million, with a third year vesting option. Keep in mind that Byrd turned 36 in August and put together what was likely somewhat of a fluke. His .847 OPS was the highest of his career. That's not sustainable for a 36 year-old, even in the bandbox that is Citizens Bank Park. Cody Ross signed a three-year, $24 million deal with the Diamondbacks last offseason going into his age 32 season. Keep in mind that Ross has a career OPS+ of just 105 (and a 106 wRC+), meaning he is only five percent above average at the plate.While Young is slightly below average for his career in terms of wRC+ and OPS+, he brings so much more to the table on the basepaths and with his glove than Ross. In his best season, Ross had a 3.5 fWAR, while Young's best is 4.5. Even Ryan Ludwick, in the middle of a rapid decline, got two years and $15 million before his age 34 season. Both of these players were older than Young and got more money, despite being as good at best as Chris Young.
Hypothetically, if Young had a similar season to the one he had in 2011, or even the one he had in 2012 going into a free agency year, he would certainly get close to what Nelson Cruz or Curtis Granderson will get this offseason. And the one-year commitment, although I would have liked to see an option year attached, doesn't commit too much to Young who, despite the great case for him, is a risk. You can't pay under $10 million for a starting outfielder and not expect some kind of flaw and with Young it's the risk that he brings. He will bring as much, if not more to the table than Marlon Byrd would and at worst case, the Mets feel they won't be able to re-sign him and they trade him at the trade deadline to a team desperate for outfield help. If the signing does work out, Young could be a contributing piece to a surprisingly-decent 2014 Mets team.
Follow me on Twitter @UpAlongFirst and visit my blog at UpAlongFirst.com.