There are two general managers in today's game that pioneered the incorporation of the moneyball concept into the Major Leagues. One of them was a former marine who was the first to adopt into the then little known Bill Jame's philosophy of advanced statistics, while the other was a one-time elite outfield prospect whose hobbies include breaking bats, throwing chairs and analyzing sabermetrics in his spare time. Neither of them cares about what you think.
Alderson is the former and the teacher of the latter, the Oakland A's Billy Beane, and if there is another GM in the game that values third party input less than Sandy, it would be his protégé running the A's.
Last winter, they worked together to swap reserve outfielder Collin Cowgill for third base prospect Jefry Marte. The move was low risk for both as Oakland was sporting a crowded outfield with the acquisition of Chris Young while the Mets gave up a marginal prospect with the upside of a replacement player. Cowgill was designated for assignment and was on a different team before the weather warmed up, while Marte put together a pedestrian year for Oakland's Double-A affiliate.
This year, I think there is a chance for them to make a more impactful move. On the Mets end are two first basemen (Davis and Duda) with less popularity in Queens than Miley Cyrus at a proper etiquette class. Yet both have displayed enough potential that they may interest Oakland who has a need at the 1B/DH position.
Oakland's current first baseman is Brandon Moss, who put together a strong offensive campaign (30 HR, .859 OPS). However, his WAR rating was weighed down heavily by his inability to field. In contrast, A's right fielder Josh Reddick had a dreadful year at the plate but still ended up with a higher WAR rating than Moss.
| | | | | | | |
| --- | --- | --- | --- | --- | --- | --- |
| 2013 | PA | BA | OBP | OPS | HR | WAR |
| Brandon Moss | 505 | .256 | .337 | .859 | 30 | 2.2 |
| Josh Reddick | 441 | .226 | .307 | .686 | 12 | 2.6 |
Their DH position was manned mostly by Seth Smith who is a non-tender candidate after an unimpressive season according to MLBTR. This makes me wonder if Billy Beane, who loves to buy low as much as any GM in baseball, would consider trading for Duda to be his DH or Davis to be his first baseman and slot Moss as his DH.
If the A's do indeed have interest in either player, then the Mets can consider trading for LHP Brett Anderson. A former second round pick and top prospect, Anderson debuted with the A's in 2009 and appeared well on his way to being a top of the rotation starter before undergoing Tommy John surgery. He returned in late 2012 and was impressive enough that the Kansas City Royals were rumored to be considering a deal involving Wil Myers for him. However, Anderson continued to battle injuries in 2013 and finished the season with a woeful 44 innings pitched and a 6.04 ERA.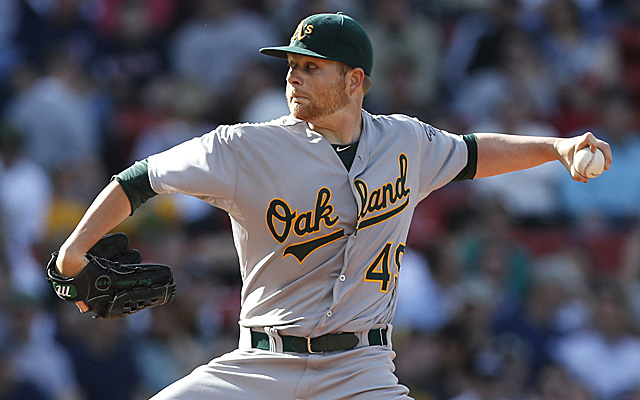 His $8 million dollar option was picked up earlier this month with most speculating that he will be traded this offseason as the A's will hold a full rotation when they presumably re-sign Bartolo Colon. If the Mets part with one half of the Double D tandem, then a swap for Anderson would be equivalent to trading for a different roll of dice for both teams, at positions that fit better with their respective needs. Brett Anderson is understandably a huge risk since he can no longer be optioned to Triple A if he falters early. My hope is that he can become serviceable and keep the Mets with a second mid rotation lefty if Niese gets hurt for whatever reason and a best case scenario of him becoming the rotation ace and worst case scenario that he is DFA'd when Montero/Thor are called up.
But Anderson isn't the only name I am interested in. As someone who is coming around to the idea of pursuing Choo and believing the lure of playing in a highly populated Korean neighborhood is a major advantage for the Mets, I think it would be strategically beneficial for them to acquire an outfielder before negotiating with Boras as a way to increase their leverage and have a fall back option. A reasonable candidate from the A's (if they are willing to trade him) would be Josh Reddick who appeared to have a breakout season in 2012, clubbing 32 homers while winning a gold glove. Last season, he regressed (likely due to a wrist injury) into a clone of Ike Davis at the plate but still managed to post a 2.6 WAR thanks to his superior defense.
The key to making a trade between these two teams is helped by each having multiple players that may interest the other team. In addition to filling out 1B/DH, the A's are in market for a closer and 2B/SS as well.
Mets chips: Davis, Duda, Parnell, Black, Murphy, Tejada?, Valdespin?
A's chips: Anderson, Reddick, Jemile Weeks
Most importantly, a Mets – A's trade would take two GMs who do not care for convention and are willing to trade for players who do not appear to have immediate value. I believe Beane and Alderson have great respect for each other and that they can certainly find a high upside trade for both teams with the names above.