Yesterday, the New York Mets announced that Mike Piazza, the greatest home run-hitting catcher of all-time, will be inducted into the Mets Hall of Fame on Fan Appreciation Day Sunday, September 29 at Citi Field. Piazza will become the 27th member of the Mets Hall of Fame during the Mets Hall of Fame Induction Ceremony prior to the 1:10 p.m. game vs. the Milwaukee Brewers.
It's about time… But why stop there?
Here's something photoshopped about two years ago before the Mets moved in the walls at Citi Field. How cool would that look in our ballpark?
Has Piazza done enough as a Met to be worthy of such distinction? Absolutely… Consider this…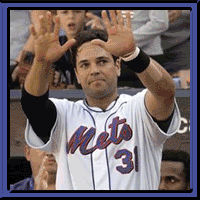 Piazza hit 220 of his 427 career home runs with the Mets, ranking second in franchise history. He ranks first in team history with a .542 slugging percentage and is third in RBI (655). Piazza was a seven-time All-Star with Mets.
Piazza set a team-record with 124 RBI and hit 40 home runs in 1999 and then finished with 38 home runs and drove in 113 runs in 2000 as the Mets qualified for the playoffs in back-to-back years for the first time in team history and reached the 2000 World Series.
That's not all… Piazza hit his 352nd home run as a catcher on May 5, 2004 to break Carlton Fisk's major league mark.
Now… Consider that and then throw in the Post 9/11 Game… His dramatic eighth-inning home run in the first sporting event in New York City after the 9-11 attacks beat the Atlanta Braves and helped the city begin the healing process.
Chief Operating Officer Jeff Wilpon had this to say about Piazza yesterday:
"Mike Piazza reinvigorated our franchise when we acquired him in May, 1998. Mike is one of the greatest players in our history and we are thrilled to induct him into the Mets Hall of Fame."
Lets go all they way on September 29 and do this thing right…
RETIRE NO. 31…
(Photo credit: Newsday)