As the non-waiver trade deadline draws nearer, the Mets find themselves in what's normally a seller's situation. They are ten games under .500 and eleven games out of the second Wild Card spot. However, with 2014 being the year everything is supposed to start coming together, what with (presumably) plenty of money to spend and the top two starters both on the major league roster, the Mets can afford to add pieces via trade that are already on multi-year contracts. Here are three options: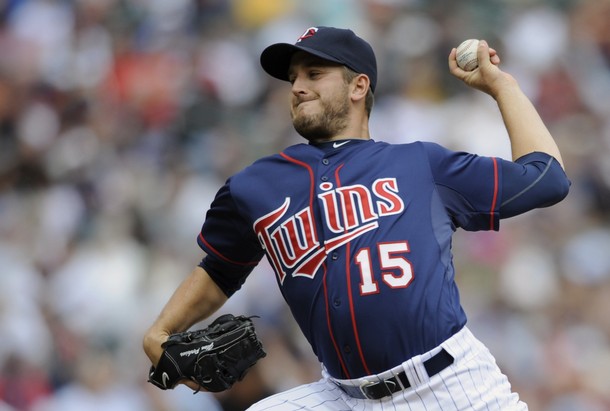 Glen Perkins, closer for the Minnesota Twins. I should open with the declaration that the Twins aren't shopping Perkins and have spread the word he's unavailable. That said, the Twins have recently dealt Denard Span and Ben Revere and appear to be reloading, though one can argue that they were never really loaded to begin with.  And since Glen Perkins is not named Mariano Rivera, he's just as viable as any other relief pitcher to hit a valley as low as how high his peak is right now.
Currently, Perkins is sporting a 2.05/1.88/2.19 pitcher's slash (ERA/FIP/xFIP), an incredible 6.14 K/BB, a WHIP of 0.82 and opponents are hitting .168/.224/.271 against him. He's in his third year as a full time reliever and each year he's gotten better. The 30-year-old's contract is very team friendly. It calls for a $2.5 million salary this season and $3.75 in each of the next two seasons. There's a team option for $4.25 million in 2016 with a $300,00 buyout.
What makes the Mets a viable trade partner is that the Twins have only Kyle Gibson in their current rotation that's viewed as a viable long-term option, and Alex Meyer should arrive next year, but that's all, at least as far as Twins pitching prospects on Baseball America's Top 100 go. The organization is not heavy on pitching, and that's something the Mets could spare. It'll cost a lot, but the Mets should check in and get an idea of the price. Naturally, I disagree with my colleague Gerry Silverman on trading Bobby Parnell. That could be a devastating back end of the bullpen for the next few years.
Jose Veras, closer for the Houston Astros. Veras is a step down from Perkins in performance, but also in price. He won't cost more than maybe one mid-level prospect or two lower level prospects. The Astros are always ready to deal and have made it known that they would move anyone on the roster.
Veras, 32, currently owns a 3.60/3.83/3.71 slash, which isn't great, but his peripherals tell a bit of a different story. He's striking out more than a batter per inning and is posting line drive and ground ball rates considerably better than his career averages. This has been evident in his recent performance. Through May, Veras had a 4.50 ERA and a 26:10 K/BB ratio. In June, however, his ERA was 1.64 and he only walked four batters against twelve strikeouts.
Veras is only guaranteed though this season, making $1.85 million, but has an option for next season worth $3.25 million. There are escalators based on games finished, but if Veras were to be acquired, the Mets can leave Parnell (or maybe Perkins) in the closer's role and negate that incentive. And $3.25 million is not bad for his production when you consider how expensive saves are on the free agent market. When he would hit free agency after 2014, the Mets would have a much clearer picture on the roles of Jenrry Mejia and Jeurys Familia.
Luke Gregerson, set-up man for the San Diego Padres. We've been through this before, when it came out that the Padres offered Gregerson for Daniel Murphy. Gregerson has been incredibly consistent in a role that doesn't offer much in the way of consistency from year to year. He's a reliable back-end bullpen arm that has struggled lately due to workload, but if the Mets trade for him, he'd be entering a bullpen that has recently been clicking on all cylinders. He wouldn't have to be called on four days a week.
Gregerson is still arbitration eligible and the earliest he can hit free agency is after 2014. Under control for another full year, like Veras, would give the Mets time to get some arms healthy and back into rhythm. Unlike Veras, however, Gregerson will be highly sought after and wouldn't come cheap. But the Padres have engaged the Mets in trade talks before, so I don't see why they couldn't again.
In the interest of showing both sides, the following are two players I don't want the Mets to trade for: Starlin Castro and Giancarlo Stanton.
Stanton only joined this list Tuesday afternoon after I heard Peter Gammons on with Joe and Evan. Gammons agreed that while a package centered around Zack Wheeler could get the job done, he doesn't think Stanton has any interest whatsoever in signing an extension in New York. That changes things. I was all for emptying the farm for Stanton, but of course under the condition that he signs an extension. Even the most ardent supporter of acquiring Stanton would agree that Wheeler, Wilmer Flores, Noah Syndergaard, Rafael Montero, etc. or any package including several of these names cannot be traded for anyone for only three years of their service.
I don't know where Gammons got this information, but he's earned the benefit of the doubt. If Stanton would be agreeable to an extension, then proceed. But if he plans on hitting free agency as early as possible, all bets are off.
Consider me someone who's lukewarm at best on Castro. He burst on the scene in 2010 and then had an even better 2011, but his 2012 season was merely average and he's struggling mightily in 2013. He's regressing big time, but even when he was on top of the world, there were red flags. His BABIP in 2010 and 2011 was .346 and .344, respectively; it dipped to .315 last seasons and is down to .276 in 2013. However, there's been no drastic change in his batted ball rates or his plate discipline over his career and therein lays the red flag. It leads me to consider the idea that he benefitted from a good amount of luck early in his career and his regression is due to normalization.
There's also the fact that he's not a very good defensive shortstop. You can look at any stats you prefer, and they all agree. His fielding percentage is poor, his UZR/150 is poor for his career (while a one-year sample is hardly accurate, a four-year sample is enough to base an opinion on) and his manager saw an issue earlier in the year. He's a terrible base-stealer. His career 67% success rate is killing his team. His walk rate is very low, and his marginal pop in a hitters haven like Wrigley would translate poorly to Citi Field. To recap, a top of the lineup hitter supplements his potentially decent batting average with an inability to draw walks or steal bases, he can't play defense and has minimal pop. And would likely cost a ton in prospects.
Sure, he's only 23 and could figure it all out, but is it worth the risk? After seeing how his good seasons could easily have been enhanced by luck, I don't want to risk all he would cost on him. Not at all.
I'll leave you with a loosely formed idea. When researching Gregerson, I came across an internet chat held by Bill Center, a 30-year Padres beat writer for the UT San Diego, in which he stated that he thinks the Padres deem shortstop Everth Cabrera untouchable, but might possibly deal him if a major league shortstop is returned.
Everth Cabrera. Now there's a guy I like. He has some limitations, but he's someone who can really help the Mets. He's finally getting a shot everyday in his first full season and he's not disappointing. Currently, he sits at .291/.381/.386, though his line drive rate is much higher than his career and may not be sustainable. I, however, would give the benefit of the doubt to a guy who's finally playing everyday and trending upwards at 26 years old. He's an incredible base stealer with an 82% success rate, is playing the best defense of his career and is only just entering arbitration after this season. He's not a free agent till after 2016.
Well. I'm not a trusted confidant of the Padres front office, but I know they employ at least one person who probably thinks highly of Ruben Tejada. They've already offered Gregerson for Murphy in the past. Without bringing up prospects or cash considerations, because I don't know the ins and outs of the Padres farm system, could a deal possibly be worked out centered on Tejada and Murphy for Cabrera and Gregerson?
That could move Omar Quintanilla to second base. Or maybe the fun's not over.  Maybe the Mets look at a reunion with Jeff Keppinger. Jon Heyman has mentioned that Keppinger has been brought up in White Sox trade talks so far this season. Keppinger would fit at second base for the Mets pretty well. He's not a great defensive player, but let's be honest. He'd be replacing Daniel Murphy.
Over Keppinger's last four seasons, he's hitting .288/.330/.386 while Murphy's last four seasons amounts to .287/.329/.418. That surprised me a little. Almost identical, with the exception that Murphy's propensity for hitting doubles gives him the SLG% edge. While the defense is a wash, Murphy's doubles can be offset by Keppinger's defensive flexibility around the infield and his right-handedness. Keppinger is also in the first year of a team-friendly three-year contract.
Could the Mets work out a separate deal for Keppinger, or maybe involve themselves in a three-team trade? Keppinger currently starts at third base for the White Sox and as luck would have it, the Padres have been listening to offers for third baseman Chase Headley since last season. Then who would play third base for the Padres? Daniel Murphy. See how it all seems to fit? Maybe they choose to keep Murphy at second and play über-prospect Jedd Gyorko at third base. They have options.
Like I said, it's a loosely formed idea. Prospects would be heavy in this one because Headley is a top third baseman and the White Sox are looking to retool. I don't have insight to the Padres and White Sox respective farm systems. But it's fun to think about.