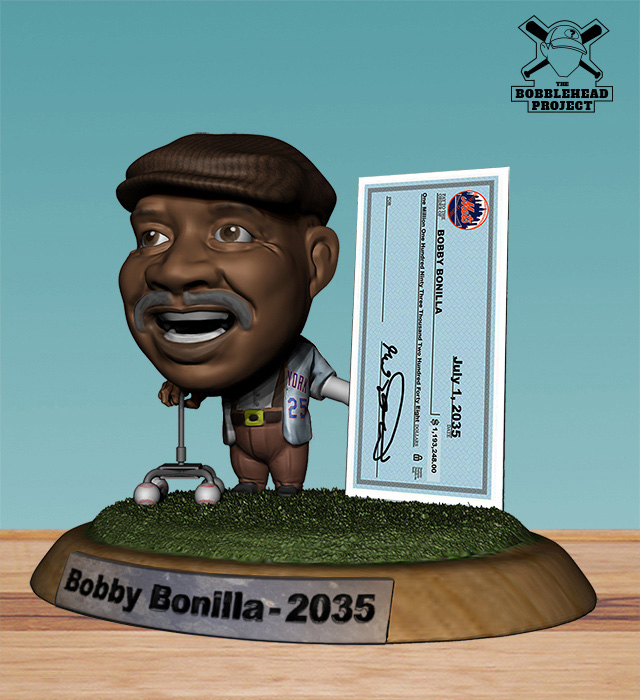 From Jon Heyman, CBS Sports:
Bobby Bonilla's increasingly infamous deferred compensation arrangement with the Mets is actually two separate deals totaling more than $40 million, not only the $30 million that has been previously reported, people familiar with the world's longest sports deal told CBSSports.com. Plus, a third 25-year Mets deferred compensation agreement, this one for former pitcher Bret Saberhagen, is also on the team's books, bringing the grand total to close to $50 million. Deferred, of course.
At a time the average MLB player salary has flown past $3 million (it's about $3.3 million), the Mets have pared their payroll to only a half-dozen million-dollar players, extremely low for a big-market team. It's noteworthy that the one payment that inspires the most fascination — at least among Mets fans — continues to be Bonilla's deferred payments.The Mets are celebrating their All-Star Game at Citi Field on Tuesday, but their perennial payroll All-Star continues to be Bonilla, who re-entered their books in 2004 and will stay on them through 2035, when he will be the best-paid 72-year-old ballplayer going.
The one previously known 25-year deferred plan that pays Bonilla $29.8 million in total becomes a semi-hot topic in New York every July (when the payments are due), but a review of documents turned up a second deferred deal for Bonilla, this one for $500,000 a year, also for 25 years, and beginning even earlier (in 2004). That brings Bonilla's grand total to more than $42 million. What's more, Bonilla isn't the only Met with such a deferred compensation deal, as Saberhagen's deal for $250,000 a year for 25 years also began in 2004.