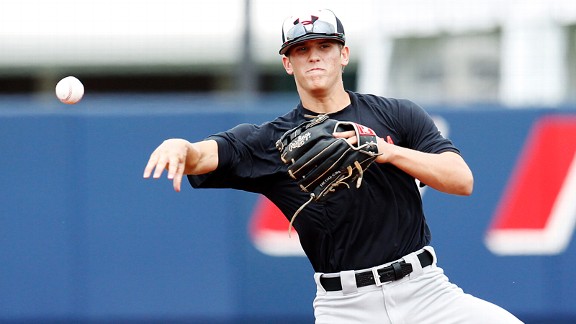 Last month, I had the chance to conduct an email interview with John Sickels of the well-known minor league blog, Minor League Ball. Sickels worked for ESPN many years ago, where he had his own column about minor league baseball. Here is some of what we talked about:
Q: Were the Mets too conservative with the Gavin Cecchini selection?

A: I thought Cecchini was a slight overdraft but I didn't really think that about Nimmo. By slight, I think he was more of a late first round guy rather than 12 th overall, but that's my opinion and obviously the Mets disagreed. Their thinking is that a premium defensive shortstop with excellent makeup and a chance to be at least a decent hitter is not easy to find. As with Nimmo, Cecchini is very young of course, just a college freshman age-wise, so it is way too soon to know who is right.

Q: What do you think of the prospects the Mets got for R.A. Dickey?

A: I thought they did well. D'Arnaud has the offensive and defensive ability to be an All-Star catcher, and at least a solid long-term regular. He just needs to stay healthy. I love Syndergaard, who has made a lot of progress with his secondary pitches. He could be a top of the rotation pitcher. They are both elite prospects.

Q: Jenrry Mejia and Jeurys Familia — bullpen or rotation?

A: Bullpen in both cases. I used to think that Familia might make it as a starter, but at this point I think his command and mechanical problems make him a better fit in the pen.

Q: Vicente Lupo wowed in the Dominican Summer League with a .343/.500/.608 slash line and ten home runs over just 65 games. He is a bit of a mystery to many Mets fans. What do you know about him?

A: Well Lupo was a big-bonus guy out of Venezuela who was supposed to hit for power and average. He was terrible in 2011, but supposedly he was sick most of the summer and not at full strength. As you know, he was outstanding last year, more in keeping with the original reports. However, Dominican Summer League performance is not very predictive, so at this point I think we just have to wait and see.

Q: Will changing Triple-A affiliates from Buffalo to Las Vegas have any impact on player development?

A: Las Vegas is an extreme hitters park in a pro-offense league. In one sense, it can be a useful trial-by-fire thing for for pitchers: if you can survive in Vegas, you are better-prepared mentally and emotionally for the major leagues. On the other hand, it does introduce complications in player development for players on both sides of the ball. Breaking pitches don't act the same. Hitters can get into bad habits that don't harm them statistically in Vegas, but can come back to haunt them in the majors.
Read more of Sickels' work at Minor League Ball.