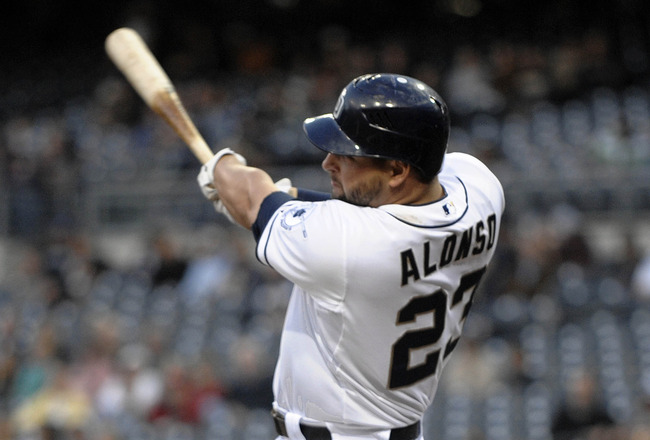 Series Preview
The Mets begin their 2013 season against the San Diego Padres, who they will face off in a three-game series at Citi Field. It's the beginning of a rather easy April schedule for the Mets, whose April opponents posted just a .476 winning percentage last season.
The Padres are in rebuilding mode, but may be a sleeper team this season, even in the ever-more-difficult National League West. They struggled big time on offense, batting just .234 as a team in the first half. Missing Carlos Quentin for the first two months of the year, they didn't have a big power threat in their lineup. They were 28th in ISO before the All-Star break, while also ranking 29th in wOBA and 26th in wRC+. Their pitching staff, which ranked 12th in ERA for the first half, just couldn't produce enough to make up for the struggles on offense.
The second half was a different story for San Diego, however, as they turned it around drastically and found themselves playing above .500. Why did they start playing better? Simply put, they were scoring more runs. They went 17-35 in April in May because they were only scoring 3.2 runs per game. With Chase Headley, their only threat, ice cold in the first half, they had no offense. However in the second half, with the infusion of Carlos Quentin back into the lineup, and a historic resurgence by Headley, they scored about 4.6 runs per game. That, combined with their pitching staff holding steady allowed them to go 42-33 in the second half, compared to just 34-53 in the first.
Series Matchups
Game 1:
Jon Niese (190.1 IP , 3.16 K/BB, 113 ERA+) vs. Edinson Volquez (182.2 IP, 1.66 K/BB, 88 ERA+)
Volquez, 28, has had an up-and-down career to say the least. In 2008, he had a sensational year for the Reds in his first full season in the big leagues. He posted an ERA of 3.21 over 32 starts and finished fourth in the Rookie of the Year voting (in any other year, he would have won the award). A few injury-plagued seasons, however, and he ended up in San Diego after being dealt for Mat Latos. He had his best season since 2008, but command issues held him back. He posted a dreadful 5.2 BB/9 rate last year and walked a league-high 105 batters. In the minors, he had never posted high walk numbers, but since that 2008 season, they have been glaringly high.
Game 2:
Matt Harvey (59.1 IP, 2.69 K/BB, 141 ERA+) vs. Clayton Richard (218.2 IP, 2.55 K/BB, 91 ERA+)
Richard had another solid season for the Padres last year, settling in as the steady rock of the rotation at ge 28, and going over the 200 inning mark for the second time in his career. Two things to know about Richard: he doesn't strike out many batters and he gives up a ton of home runs. He struck out 4.4 batters per nine innings last year, even lower than his career 5.7 K/9 rate. He also gave up a league-high 31 home runs. Keep in mind that he made 14 of his 33 starts at Petco Park, one of the toughest ballparks in the majors for home run hitters.
Game 3:
Dillon Gee (109.2 IP, 3.34 K/BB, 94 ERA+) vs. Eric Stults (99 IP, 2.04 K/BB, 128 ERA+)
Stultz had a very good season for the Padres after jumping into their rotation mid-season. He was claimed off the waiver wire from the White Sox in May, and proved to be a good pickup for San Diego with an impressive second half. He pitched in 18 games for San Diego and made 14 starts, in which he posted a 2.92 ERA. He is another guy who doesn't strike out many, with a career K/9 rate of 5.0.
Series News & Notes
The Padres will be without Chase Headley, who is out for a few more weeks. He was the driving force of the Padres' second half success, hitting .308/.386/.592 with 23 home runs, 11 doubles, and seven stolen bases in only 75 games. He ended up finishing fifth in the NL MVP voting after hitting just .267/.368/.413 with eight home runs in 86 first half games.
San Diego will also be missing starting second baseman Logan Forsythe, who is out with plantar fasciitis. He hit .273/.343/.390 with six homers, eight stolen bases, and three triples in 91 games.
Watch out for Luke Gregerson and Huston Street in the back end of the San Diego bullpen. Gregerson finished with a 2.39 ERA in 71.2 innings last season while Street, the primary closer, saved 23 games and had a 1.85 ERA in 39 innings.
Niese will be the third different starting pitcher in as many years for the Mets, and just the second pitcher other than Johan Santana to start the first game of the regular season since 2007. Santana opened from 2008-10, Mike Pelfrey got the nod in 2011, and Santana pitched Opening Day again last year.
Padre third base prospect Jedd Gyorko will be making his major league debut. Gyorko was ranked the 50th best prospect in baseball by MLB.com and 71th by Baseball America. He hit .311/.373/.547 with 30 home runs and 28 doubles in 126 games between San Diego's Double-A and Triple-A affiliates last season.
After losing their first eight Opening Day contests, the Mets have won 33 of their last 43 Opening Day games…New York took nine straight openers from 1975-1983 to tie a major league record…The Mets have won six of their last seven openers and are 9-4 in their last 13…The Mets shut out Atlanta, 1-0, on Opening Day last year.
Today is the third time the Mets will host Opening Day at Citi Field…New York is 2-0, winning last year and topping the Marlins, 7-1, in 2010…The Mets are 19-2 in their last 21 Opening Days at home and 19-7 overall when starting the season at home.
David Wright has at least one hit in every Home Opener since making his first Opening Day roster in 2005…Wright is hitting .375 (12-32) with three home runs and nine RBI on Opening Day…Wright is making his ninth Opening Day start today, tying him for the third-most in team history with Jerry Grote and Howard Johnson…Only Tom Seaver (11) and Bud Harrelson (11) have started more Opening Days in franchise history.