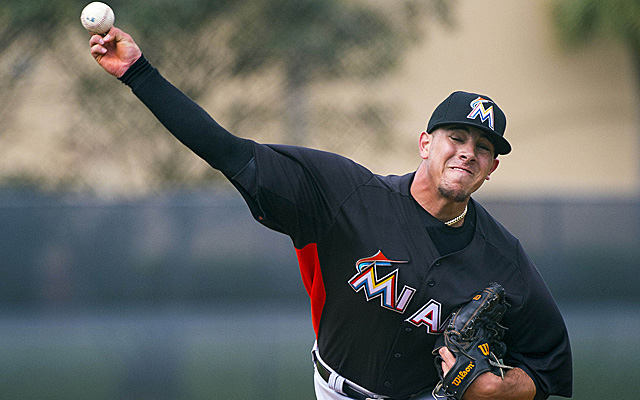 The Mets begin their second series of the season against the new-look Miami Marlins today, in the first game of what will be a three-game set.
The Marlins, for the second offseason in a row, blew up what they had and started over. Last winter was a little different, as the Marlins were the team adding expensive talent. Now, it's as if they're begging teams to take any major league caliber player off their roster. The club that had eight players with salaries of at least $5 million now has just one. Their payroll has been sliced in half, from over a hundred million to just fifty, and that's including the money they paid to other teams to take on highly-paid players. Take that away and their payroll is under $40 million.
The only player of much worth on the Marlins roster is Giancarlo Stanton, who may end up being traded at the deadline as well this year. The 23 year-old put up unbelievable numbers, hitting 37 home runs and putting up a 5.7 WAR rating in only 123 games. He is the one and only threat left in the lineup.
Overall, if some of the newly-acquired prospects don't pan out immediately, the Marlins could challenge the Astros for the worst record in baseball.
Pitching Matchups
Game 1: Jeremy Hefner (93.2 IP, 76 ERA+, 3.44 K/BB) vs. Alex Sanabia (career: 83.1 IP, 113 ERA+, 2.89 K/BB)
Sanabia was pushed out of the rotation last year, pitching in the minors for the entire year. In 18 Triple-A starts, he posted a 3.93 ERA in 91.2 innings. The 24 year-old only pitched 11 innings in the majors in 2011, and made 12 starts in 2010. He had decent success in 2010, putting up a 3.73 ERA (112 ERA+), 5.8 K/9 rate, and a 2.0 BB.9 rate. His mediocre peripherals, however, tell us that he probably isn't anything special. Just another future journeyman.
Game 2: Jonathon Niese (2012: 190.1 IP, 113 ERA+, 3.16 K/BB) vs. Ricky Nolasco (2012: 191 IP, 88 ERA+, 2.66 K/BB)
Nolasco is currently the highest-paid player on the Miami roster at over $11 million, but nothing he has done over the past few years indicate that he has earned that salary. Nolasco signed a three-year, $26.5 million extension after the 2010 season, but has been dreadful since. In his first start against the Nationals this week, he gave up two runs on three hits while striking out five in six innings of work.
Game 3: Aaron Laffey (100.2 IP, 94 ERA+, 1.30 K/BB) vs. Jose Fernandez (2012 A/High-A: 134 IP, 1.75 ERA, 4.51 K/BB)
The Marlins are taking a huge risk with Fernandez bringing him up this early. The 20 year-old has no experience in either Double-A or Triple-A and while he had an excellent season in the minors last year, is nowhere near ready for the majors. This has David Clyde written all over it. Fernandez, a righty, was listed as the fifth best prospect in baseball by Baseball America and 7th by MLB.com.
Series News & Notes
Marlins outfielder Logan Morrison is recovering from knee surgery and was put on the 60-day DL on March 22. He hit .230/.308/.399 with 11 home runs and 15 doubles in 93 games last season.
Nathan Eovaldi, acquired in the Hanley Ramirez trade last season, is on the DL with shoulder inflammation. He was a top 100 prospect before last season, when he posted a 4.30 ERA with dismal walk and strikeout rates.
Casey Kotchman is on the disabled list as well with a hamstring injury. He batted .229/.280/.333 in 142 games with Cleveland last season.
Just looking at fWAR, the players the Marlins lost this winter were worth 18.5 wins last year while their additions totaled just 3.6 wins. Keep in mind this was a 69-win team with those players on the roster for most of the season.