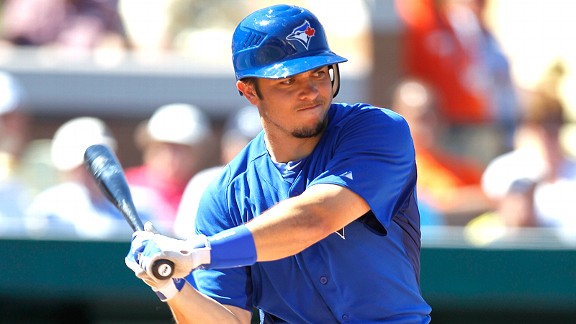 The Mets changed Triple-A affiliates this offseason, going from Buffalo to Las Vegas and from the International League to the Pacific Coast League. The biggest storyline for this team will be how the move affects development. The Pacific Coast League, especially Las Vegas, is notorious for inflated power numbers. It may be harder to judge how well a player is developing because hitters will have more home runs and pitchers will see their ERA shoot up as well. It will be interesting to see how the prospects react as well, with the top two prospects in the system set to play at least the first month with Las Vegas.
The Big Names
Zack Wheeler (RHP)- It's only a matter of time before the top Mets prospect gets called up to the majors. Wheeler should only be with the 51s for a few months, coming up in July at the latest. 
Travis d'Arnaud (C)- d'Arnaud was the centerpiece of the R.A. Dickey trade last December, and for good reason. d'Arnaud looks like the complete package, both at the plate and with the glove. His power has developed over the past two years into one of his best tools. Last year, he hit 16 homers in 67 games in Triple-A before a torn PCL ended his season.
Wilmer Flores (INF)- After struggling in the lower minors for a few years (as a result of being rushed), Flores had a resurgent season last year for Advanced-A St. Lucie and Double-A Binghamton. The long-awaited power numbers finally came, as Flores slugged .479 with 18 home runs in 130 total minor league games. In his third year in St. Lucie, he hit .289/.336/.463 with ten home runs in 64 games, earning himself an FSL All-Star Game selection. He was then promoted to Binghamton, hwere he hit even better, batting .311/.363/.494 with eight home runs in 66 games. He is still young for the league, currently the seventh-youngest player in Triple-A and the fourth youngest in the Pacific Coast League. If Flores can keep it up, all that's left is finding a position.
Jeurys Familia (RHP) Note: Familia was sent down on Saturday and will be with the 51s for the foreseeable future– Familia had a down season last year with the Buffalo Bisons, struggling as a starting pitcher. He made 28 starts and had a 4.73 ERA, along with a very concerning 4.8 walks per nine rate. His poor performance finally convinced the Mets that he belongs in the bullpen, which is where he will be this season for Las Vegas.
Matt den Dekker (CF)- Note: Broken wristThe former fifth-round pick den Dekker tore the cover off the ball in half a season with Binghamton, but struggled to hit .200 in the second half with the Bisons. He batted .340/.397/.563 with eight home runs in 56 Double-A games. After moving to Triple-A, he hit just .220/.256/.373 in 77 games. His stirkeout and walk rates were awful, as he struck out in 28.4% of his Plate appearances, while walking only 4.4%. Those numbers are among the worst in his minor league career. Den Dekker must cut down on the strikeouts if he will ever play regularly in the majors. His incredible defense isn't going to carry him to success. Den Dekker has shown a trend throughout his short career of needing an adjustment period to each new level, which has some people very hopeful that he will start to hit again once he comes back from a broken wrist later this season.
The Sleepers
Juan Lagares (OF)- The speedy and versatile Lagares hit .283/.334/.389 between St. Lucie and Binghamton last season. He can play all three outfield positions, making him a possibility for the Mets bench late this season if things go right.
Andrew Brown (OF)- Brown was a longshot to make the team in spring training, and was cut before the season started. However, Brown still has a chance to make some noise with his power. He has put up consistent power numbers throughout his minor league career and could play a role on the Met bench as a power-hitting pinch hitter if someone gets hurt.
Other Names to Watch
Reese Havens (2B)- The seemingly always hurt Reese Havens was finally cut from the 40-man roster in the week leading up to Opening Day. Havens, 26, has never played a full season without injury and in his six-year career, has only played in 308 games. If he can stay healthy and the power that scouts have been talking about since he was in college finally shows up, there is still a chance he has a role with the big league club.
Collin McHugh (RHP)- McHugh profiles as a long man or back-of-the-rotation type of pitcher. He had a solid season in the minors last year, posting a 2.91 ERA in 25 starts with Binghamton and Buffalo, walking 2.8 batters per nine and striking out 8.2. He struggled in a short stint with the big league club, allowing 21 runs (18 earned) in 21.1 innings over eight appearances.
Zach Lutz (3B)- Lutz has put up solid numbers for most of his minor league career, and almost made the team out of spring training. He hit .295/.404/.496 in 78 minor league games last season.