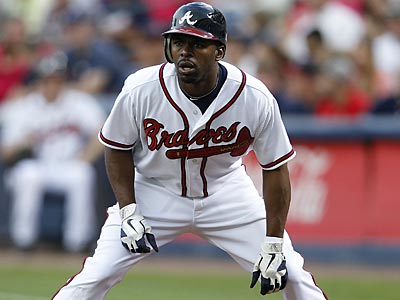 The big Mets news from last night was Michael Bourn, who decided not to sign with the Mets. Instead, Bourn signed a four-year, $48 million contract with the Indians with an easily-attainable fifth option year that would bring the total contract to five years and $60 million. Regardless of what you think of Bourn as a player, or how much money he was really worth, this whole situation was mismanaged from the beginning by all parties — including the Mets.
As the offseason winded down, so did the price for Michael Bourn. Bourn and his agent Scott Boras thought they had a chance at cashing in on a big contract, especially after B.J. Upton signed with the Braves for $75 million. However, for a variety of reasons, Bourn's price dropped to the point where the Mets were now major players.
There was one sticking point for the Mets, however: the compensation pick they would have to give up. I agree with Sandy Alderson and the front office about this, and it was the right move to fight the compensation. Losing the pick would have huge consequences on the rest of the draft, well past the first round. Not only would the Mets lose their first-rounder if they signed Bourn, but they would also lose up to a third of this year's draft budget. That didn't make sense, even for a player of Bourn's caliber.
The negotiations inched along, and rumors kept swirling. Eventually, it became clear that the Mets were the favorites to land the 30 year-old center fielder. It made sense for them as a team, and they were one of only a few clubs willing to come close to Bourn's asking price. It got to the point where the Mets were in heavy negotiations with Bourn and Boras. According to Mike Puma of the New York Post, they even agreed to terms on money and years, and were just down to little details. So what went wrong? The draft pick compensation ruling.
The biggest mistake the Mets made was not appealing earlier. Jon Heyman of CBS Sports tweeted after the signing that the Mets were reluctant to appeal the rule in the CBA that forced them to give up their pick until they had first signed Bourn, fearing that once it became public, Bourn would have more leverage and drive the price up. They were right, and the price of Bourn would have increased once it became known that they were appealing. What upsets me most isn't their strategy once they were in the final stages with Bourn, it's the lack of preparedness the Mets showed in this situation. Why they didn't appeal on Day 1 of the offseason is unbelievable.
Even if Alderson had doubts the team would be able to sign a big free agent, he should have made that option available from the beginning. They were too passive in that sense before the rumors with Bourn even began to surface. Why not take care of (or at least fight) that issue before it can become a problem? If they knew that this issue would take a few days (or even a few weeks) to resolve, why wait? (The MLBPA is in the same boat.)
The other side of this is how Major League Baseball handled this. They too, were passive from the beginning, refusing to go to an arbitrator until Bourn agreed to terms with the Mets. They didn't want to make a ruling on this matter and set an unwanted precedent. I get that. However, the way they milked and manipulated this situation was wrong. They told the Mets to agree with Bourn and then go to an arbitrator. But the longer Bourn was left on the market, the less patient he  would be in waiting for a ruling. All Major League Baseball had to do was wait, and they would not have to get that ruling. And that's exactly what happened.
It's disappointing the Mets missed out on Bourn. He was a very talented player and one who could have helped the team greatly over the next few years. His price was a little high, but very fair when you consider some of the other free agent outfielders who signed multi-year contracts this winter.
I have been a fan of Sandy Alderson from early on, and still am. I like the overall direction he is taking the organization and the emphasis on a strong core of cheap, young stars. That's the way you build championship teams. But he messed up here. He is going to take a lot of heat if he fails to address the outfield. It isn't completely his fault (Major League Baseball deserves as much blame) but had he been more aggressive in fighting this compensation rule, Michael Bourn might be a New York Met.
While I still support Alderson, his passiveness was too much this time. There is a saying that in order to truly appreciate something, you must concede its faults. For Alderson, passiveness is one of them.