As I gaze into my crystal ball for 2012, here's a gander at what I see happening in the upcoming Mets Minor League season…
Pitchers
Most Wins: Collin McHugh
Call this a bit of a bold selection, but for the first time in a long time I think the Mets have their best collection of offensive talent at Triple-A. With that said, I probably would have gone with Chris Schwinden if I didn't think he was going to have to make some spot starts for the Mets throughout the year, or have to spend a fair amount of time with the big club because of an injury to whoever it may be. McHugh had nine wins last year, four less than Matt Harvey who led the organization with 13.
Lowest ERA: Logan Verrett
Hmmm, a college arm who can throw three pitches for strikes including a very good slider? Yup, sounds exactly like the type of guy who should be able to handle the Sally pretty well. His past performance in the Cape Cod League also bode well for his transition to facing wooden bats.
Most Strikeouts: Zack Wheeler
Harvey is a very good bet to repeat here as he had better K per 9 than Wheeler last year, but I love the adjustments Wheeler made towards the end of the year with his mechanics and command and foresee a big year for him. This one should be a fun battle to watch all year.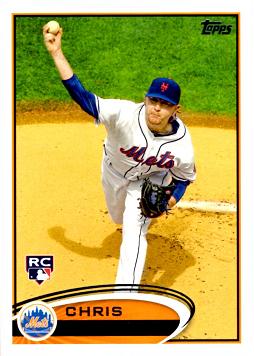 Most Saves: Josh Edgin
This one is assuming he doesn't make the big club out of spring training, but I am not 100 percent sure that happens at this point…
Biggest Riser: Domingo Tapia
I currently have Tapia in the last spot of the Mets top 20 prospects and I think he is poised to crack the top 10 and possible even top 5 depending on who graduates in 2012. He will have his first tase of full season ball in 2012 and if his finish to 2011 is a sign for things to come, then expect big things from the fire baller in 2012.
Biggest Sleeper: Bret Mitchell
I wanted to dig real deep to find a "sleeper" in the truest sense of the word and not a popular pick everyone is talking about like Chase Huchingson. Mitchell, the Mets 12th round pick out of Minnesota State University-Mankato in 2010, uses a curveball as his primary weapon and he compliments it with an average low-90's fastball. The Mets have moved him along very slowly, but in two seasons spent largely in Kingsport he has posted a 27:82 BB:K ratio over 84.2 innings. I am not sure where he is going to start, but if he is given a significant amount of innings he could make a little bit of noise.
Biggest Faller: Armando Rodriguez
Someone needs the distinction and I am not extremely confident in Rodriguez's ability to handle the jump to Double-A. He looked pretty good in three scoreless innings in spring training, but that is just a three inning sample size in one inning spurts.

Bounce Back Candidate: Robert Carson
I am not sure how much I believe in this pick myself, but if he takes well to a possible move to the bullpen he has a chance to make a contribution on the big league level so I figured he might as well get a shout-out.
First To Get the Call: Chris Schwinden
Schwinden has the ability to make contributions as a spot starter or a long man out of the pen and showed last year that he was capable of performing at a respectable level.
Top Prospect for 2013: Zack Wheeler
Get ready for the hype machine to be in full effect next year.
Hitters
Highest Batting Average: Josh Satin
Satin finished third in the running last year and has only had one season in which he hit under .300 in his brief minor league career, and in that year he hit .288. The only question is will he have enough at-bats to qualify for the crown?
Most Homeruns: Aderlin Rodriguez
As long as he makes enough contact A-Rod should run away with this category. The homerun leaders from Double-A and HiA last year are no longer in the organization and someone like Valentino Pascucci does not count for these purposes. I don't even know if he has any real competition. Allan Dykstra? Travis Taijeron? Zach Lutz, if he could stay healthy? This one is Aderlin's title to lose.
Highest On-Base Percentage: Camden Maron
A .434 OBP last year with 38 walks in 201 at-bats as a 20-year-old last year. He knows how to control the strike zone as well as any young player the Mets have and playing in full season ball as the Sand Gnats catcher he will have plenty of time to show off those skills.
Highest Slugging Percentage: Cory Vaughn
He only slugged .402 last year, but he reportedly played injured for most of the season and remember he was killing it through May (.333/.462/.478).  He also began struggling before the promotion, around the time of the injury, so I tend to believe the heel injury had something to do with the drop off in his numbers and it wasn't all about the promotion to a more advanced league.
Most Stolen Bases: Pedro Zapata
He finished just one steal behind Jordany Valdespin last year, but Valdespin got caught stealing 12 more times than Zapata. Valdespin did put up more improved numbers in the winter league, but there is also the chance he loses some games playing for the Mets.
Biggest Riser: Albert Cordero
He is just outside the top 20 at No. 23 overall and I have him moving solidly into the top 15 next year. He was dreadful early last year and then completely turned around his season in June and July. He needs to learn to take a walk and some more power would be nice, but he has nearly identical splits and a strong defensive presence. I've been anticipating this breakout for two years now so if it doesn't happen this year I might have to start reconsidering my outlook on him.
Biggest Faller: Juan Lagares
I have him all the way up at No. 16 because he had such a great season and he deserves it, but I don't have a lot of faith in him to repeat that kind of success which could see him slide back down the pecking order.
Biggest Sleeper: Dustin Lawley
Lawley had a great season after being drafted in the 19th round last year, but I didn't think much of him until the Mets decided to give him sometime at catcher this spring. The Mets have said it is not necessarily a full-time move, but if the athletic Lawley can handle the conversion he instantly becomes and intriguing prospect despite his age.
Bounce Back Candidate: Cory Vaughn
I've already touched on him above. I believe in this physical tools and think he can be granted a mulligan, at least for now.
First to Get the Call: Kirk Nieuwenhuis
This one essentially comes down to who do I think will get hurt first and based off this pick it looks like I have my money on Andres Torres or Jason Bay over Daniel Murphy. Definitely a close one though.
Top Prospect for 2013: Brandon Nimmo
I think he'll do enough to retain his spot as the Mets best hitting prospect and hopefully he'll do enough to challenge Wheeler.