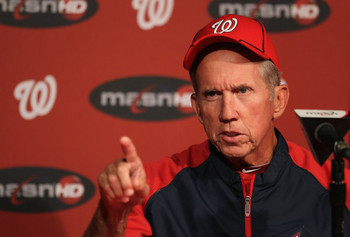 With the Nationals acquisition of Edwin Jackson yesterday, we need to start seriously considering them as legitimate contenders to not only have a good season, but to potentially win the NL East or at minimum steal a wild card berth.
With their off season additions the Nationals will have a very well rounded and talented starting rotation.  A rotation of Strasburg, Gio Gonzalez, Edwin Jackson, Jordan Zimmermann and John Lannan spells trouble for NL East and the rest of the National League.
Not only are they talented but they are extremely young.  Their rotation is now full of young power arms who consistently sit in the mid-90's. This team is not only building to win now, but they are setting themselves up for an extended run of success.
Why are they good enough to win the NL East?
The Nationals have been basement dwellers for a long time, and as a result happened to come across 2 all generation type players in Stephen Strasburg and Bryce Harper who were both taken 1st overall.  They have 3B/2B Anthony Rendon who was taken 6th overall, although he would have went #1 if he did not get injured. Many scouts believe he will be ready to join the Nats this season, if he does the Nats will have to decide who he is going to replace in the lineup. They have a very talented bullpen starting with young closer Drew Storen and all-star setup man Tyler Clippard.
They have some very solid veterans in Adam Laroche and Jayson Werth, Michael Morse has a ton of power, and Ryan Zimmerman is an all-star third baseman.  Ian Desmond and Danny Espinosa both showed flashes last season, although they struggled a little bit at times.
off season additions such as Brad Lidge, Edwin Jackson and most notably lefty Gio Gonzalez from Oakland have pushed them into the discussion of possible contending teams. Gonzalez struck out 200 batters last season and sported an ERA of 3.12, down from 3.23 the year before.
Why the NL East may be winnable.
Many people believe the Phillies are going to run away like they did last season.  I disagree with that assessment, although it is possible. While great, their rotation is getting older and both Lee and Halladay have an injury history.  Rollins is not the same player and they lost Roy Oswalt .
Howard is going to miss a few months due to his torn achillies tendon, and Chase Utley is one bad tweak of his knee from season ending surgery.
Atlanta still has very little offense, even though their pitching will carry them for the most part.
Florida while much improved is still a bit of a question mark. Their major offensive addition is VERY injury prone as we know, but is a great player and catalyst when healthy.  Their pitching rotation is improved, as well as their bullpen with the additions of Buehrle and Heath Bell, but they are both in their mid-thirties. Carlos Zambrano is an enigma and could be great or have another psychotic breakdown on the field.
The Mets….well….are still waiting for the cavalry to arrive in 2013-2014.
The days of the Nationals being cellar dwellers and considering mediocrity a successful season appear to be coming to an end.  They are no longer going to be the whipping boys of the National League East.  It's time to start seriously worrying about them, because at this point they have the brightest future of anyone in the National League East.
What do you think?
If you would like to read more of my thoughts and opinions come check us out at BigAppleMetsTalk.com