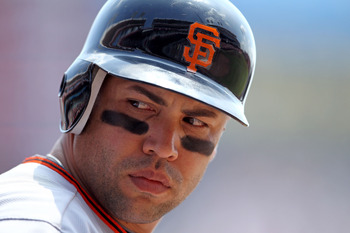 Heyman says Bosox will be in the hunt too…
[blackbirdpie url="http://twitter.com/#!/SI_JonHeyman/status/129666887360593921″]
Original Post 8:20 PM
According to Wallace Matthews of ESPN New York, a Yankees source who participated in the team's organizational meetings on Wednesday, said that Carlos Beltran's name came up as the potential replacement for Nick Swisher – whose option may be declined.
"He's on our list," said a team official who was present at the meeting. "But we have to make a decision on Swisher first."

That is an ominous sign for Swisher and his agent, Dan Lozano, who during the season were given reason to believe the option would be picked up, although not before the Nov. 1 deadline. Now, it seems as if the Yankees front office is weighing one of three options — pick up Swisher and forget Beltran, sign Beltran and forget Swisher, or sign Beltran, pick up Swisher's option and include him in a trade for a starting pitcher.

The similarities between the two players are striking. In 13 full seasons, Beltran's averages are .283/.361/.496 with 23 home runs and 88 RBIs; Swisher's are .254/.360/.466 with 26 HRs and 83 RBIs. Both are switch-hitters, although Beltran homers more frequently from the left side, which might make him more suited to Yankee Stadium's hitter-friendly right-field porch. And since Beltran lost his center field job to Angel Pagan last season, both are right-fielders, with Beltran considered easily the better fielder.
There's something that will stoke the Hot Stove for New Yorkers.
Obviously, most of you remember that Beltran was very close to becoming a Yankee seven years ago before he decided to sign with the Mets. Cashman has said in the past, that he always regretted the decision not to make a stronger play for Beltran at the time.
Beltran led the Mets with 15 home runs and 66 RBI this season while batting .289 in 353 at-bats. After he was traded to the Giants he batted .323 for them with seven home runs in 167 at-bats.