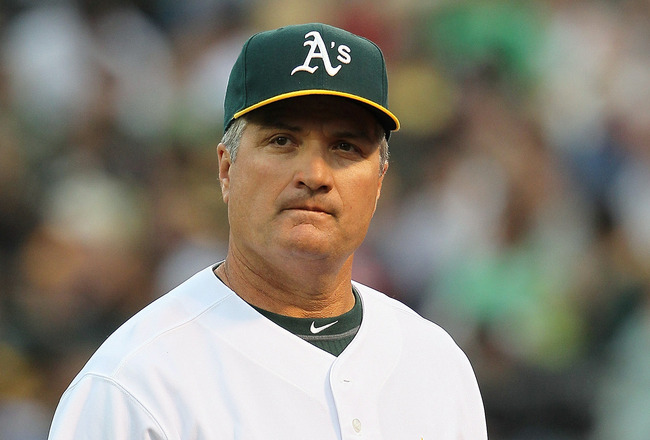 The Mets on Friday named former A's manager Bob Geren the bench coach to Terry Collins.
"Bob Geren's experience as a former manager and bench coach will be a great fit for us," said Mets Manager Terry Collins. "Adding a former major league catcher like Bob to our staff will be ideal."
Geren beat out former Nationals manager Jim Riggleman, who had strong ties with Collins.
Geren posted a 334-376 record in four and a half years managing the A's.
The Mets have also begun the process of interviewing first-base coach candidates. The front office has interviewed Minor League infield coordinator Kevin Morgan and outfield coordinator Jack Voigt for the position, according to a source, and expects to add multiple names to its list of candidates in the coming days.
Original Post 10/13
According to baseball officials who requested anonymity because the club had not made any public pronouncements the Mets are making progress in its search for a bench coach, writes Andy McCullough.
Former Washington Nationals manager Jim Riggleman interviewed on Tuesday, while former Oakland Athletics manager Bob Geren is expected to interview today.
Despite what you may have read or heard, Larry Bowa is not considered a candidate. As we reported here last week, Bowa has taken some veiled shots at the Mets in recent weeks and considering his opposition to sabermetric views, he wouldn't really mesh with the current front office if you know what I mean.
That said, I have a bit of a problem with this little item on Geren:
Geren spent more than 10 seasons in the Oakland organization, and was considered close with general manager Billy Beane. But things took a turn for the worse early this season. He publicly sparred with reliever Brian Fuentes. One of his former players, Rockies closer Huston Street, told the San Francisco Chronicle that Geren was "my least favorite person I have ever encountered in sports."
What Fuentes had a problem with was Geren's lack of communication and his overall managing style which he considered unorthodox and uninspiring.  "There's just no communication…Just lack of communication. I don't think anybody really knows which direction he's headed."
When asked if the air needed to be cleared with his manager, Fuentes replied, "Some people might think so, but at this point, I have nothing to say."
Some have also reported, including Jon Heyman, that "Geren was in tough spot from the start, as players and outsiders alike viewed him as something of a teacher's pet in that he was Beane's best man at his wedding and unlikely to be a candidate to manage anywhere else."
Geren took over an A's club that had posted eight straight winning seasons, but when he took charge the A's had five straight non-winning seasons.
However, Geren's affinity for sabermetrics and managing the game by the percentages, could give him the edge over Riggelman and a leg up with this front office. We'll see.