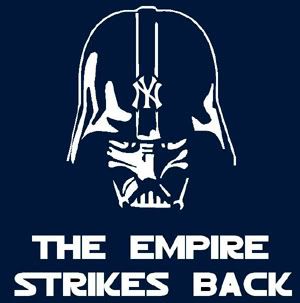 Well, as we all know, our beloved New York Mets have missed the playoffs for the fifth straight season.
I'm not sure about many of you, but even with the Mets done for the year, I still watch a ton of postseason baseball.
There have been some great games so far, and it's looking like the postseason will be even more exciting in the championship round.
So basically, all this fluff leads me to the elephant in the room: How many of you are rooting for the Yankees to reach the World Series?
After a tough loss last night, the Yankees find themselves one game away from elimination with the erratic A.J. Burnett taking the hill tonight in Game 4.
Obviously, the Bronx Bombers are a New York team, so it's likely that many Mets fans will cheer on the Yanks—not overly passionate of course—to advance as far as possible.
Another World Series title would be good for the city, even though it would be coming from the other side of town.
However, it's also inevitable that many Mets fans are Yankee-haters.
For years, our team has played in the shadow of the "Evil Empire," watching as the Yankees reap all the benefits.
They lure the best free agents, have the most fans, make the playoffs every season and seem to get all the breaks.
When A-Rod goes down with injury, not only does Eduardo Nunez fill in adequately, but Curtis Granderson also picks up the offensive slack in a huge a way.
On the flip side, if David Wright and Ike Davis get hurt, the Mets are scrounging for offense, and even when they get some, the pitching falters.
I'm on the fence as to whom I'm rooting for this postseason. As a Met fan, I thoroughly appreciate National League baseball so wouldn't mind seeing the NL prevail, except the Phillies of course.
The Mets and Cardinals don't have the rivalry that once existed in the 1980s, so seeing St. Louis win wouldn't bother me either.
But still, New York is New York, even if the only other team is the Yankees. While some Yankee fans rub it in our faces concerning how much better the Yanks are than the Mets, most Yankee fans simply treat the Mets as an irrelevant entity.
Sadly, there's not much argument against that point over the last few years, except if you include media coverage for off-the-field problems.
So I'm curious to see which way Met fans are leaning this postseason. Rather than pick a specific team, I'm rooting for exciting baseball with both clutch hitting and clutch pitching late in games.
Hopefully 2012 brings the Mets better fortune: They'll likely need it.