Baseball America released their Florida State League Top 20 Prospects and Mets pitching prospect Matt Harvey was ranked at #2 while infielder Wilmer Flores closed out the list at #20.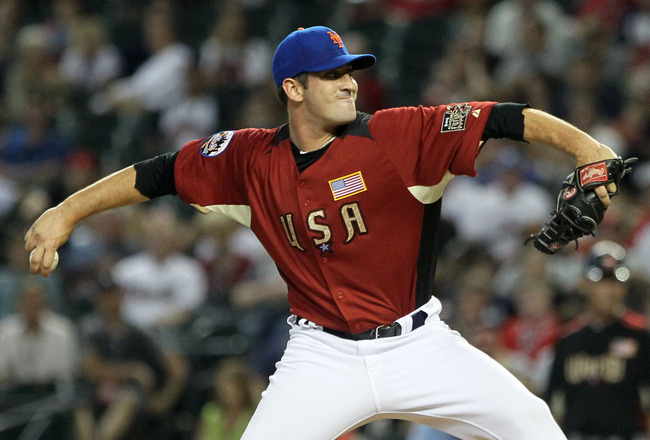 Matt Harvey had a tremendous campaign for the Mets in 2011. The big right-hander started out in St. Lucie and went 8-2 with a 2.37 ERA and 1.19 WHIP in 76 innings and struck out a whopping 92 batters in his very first taste of professional baseball.
He was then promoted to Binghamton where after a brief adjustment period settled in and pitched solidly to finish with a 4.53 ERA in 59.2 innings with 64 strikeouts.
Manager Wally Backman called Harvey's stuff electric and raved about his curveball, "I know it's Double-A, but this kid has a big-league, swing-and-miss curveball."
He calls Harvey the "real deal" and sees him as a "No. 2 starter in a championship team's rotation."
I expect Harvey to begin the season in Binghamton next season with a promotion to Buffalo in the offing if he gets off to a great start and dominates. GM Sandy Alderson said it probably might not happen, but he wouldn't be surprised if Harvey forced the issue and worked his way onto the Mets in 2012.
Wilmer Flores is a completely different story. I was actually shocked to see him ranked on the FSL Top 20 after what I felt was a big regression in 2011. But that might be more of an indication of the lack of quality prospects in the league this year compared to previous ones.
After batting .300 with a .739 OPS in 290 AB for St. Lucie in 2010, Flores regressed in virtually every category this season. His power was down and his batting average sunk to .269 with a .689 OPS despite repeating this level. On the plus side, Flores did finish strongly and played more consistently during the final two months of his season.
There's also the concerns that he ultimately will move to first base or a corner outfield position which would make his production less valuable.
Still, he's very young and there's still a very raw but remarkable skill set here that could still translate into major league success in the future.