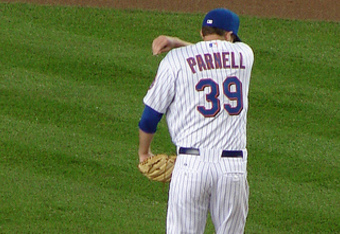 The NY Post reports that former closer John Franco will in fact be tutoring Bobby Parnell as soon as this week on the art of closing.
Parnell has struggled mightily since assuming the closer role this season and is 3-6 with five blown saves in ten chances. His ERA now stands at 4.05 with an unsightly 1.596 WHIP in 51.1 innings pitched.
Pitching coach Dan Warthen says:
"The more that Parnell can understand it's an attitude, that you've got to believe that everything is going to work your way and you've got to choose your battles, the better he will be," Warthen said. "I think John Franco can help him in that respect. He's a good, name guy and I try to use all the people I can."
The article also says that this could be the first step for John Franco becoming a pitching coach within the organization, something he apparently was jockeying for when Terry Collins was hired as manager.
As for Parnell, it takes more than "stuff" to be a solid closer, and even with his stuff the numbers are simply not that good. You don't want your closer to put runners on base at the alarming frequency that Parnell does.
Franco will try to work on his attitude and developing a mean streak or an intimidating presence, but the fact of the matter is he still needs to pitch effectively above all.
Parnell is 27-years old now and not exactly a rookie you handle with kid gloves.