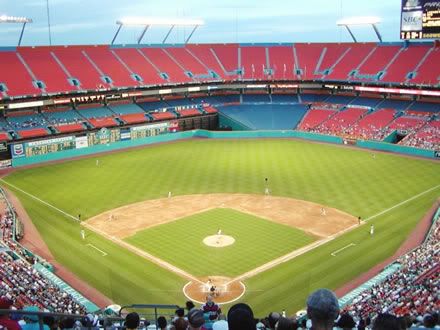 The Mets will play their final game ever this evening at Sun Life Stadium in Miami Gardens, Fla.
It was a short-lived history, since the Marlins were brought into the league as an expansion team in 1993. Coming into the last game, the Mets are 73-72 in games played on the road against the Marlins. They will try to stay above .500 tonight with first pitch scheduled for 5:10 p.m. since the Mets have a doubleheader in Atlanta on Thursday.
Sun Life Stadium, which has also served as the home of the Miami Dolphins, has oddly held an array of names in just 24 years of existence: Joe Robbie Stadium (1987-1996), Pro Player Park (1996), Pro Player Stadium (1996-2005), Dolphins Stadium (2005-2006), Dolphin Stadium (2006-2009), Land Shark Stadium (2009-2010), and Sun Life Stadium (2011).
The difference between "Dolphin" and "Dolphins" Stadium is beside me, but the ballpark did have an interesting history.
It hosted the 1997 and 2003 World Series—both of which the Marlins won. Also, five Super Bowls were played there, with the most recent one in 2010.
Here are some stats of the Mets history at the ballpark courtesy of Mets Chronicle:
First ever game Mets game at stadium: June 29, 1993 (10-9 win)
Best record in single year: 8-1 in 2007
Worst record in single year: 0-6 in 2010
Most games played: 60 by Jose Reyes
Most hits: 73 by David Wright
Most RBI: 42 by Carlos Beltran (Remember that guy?)
Most wins by a pitcher: 5 by Al Leiter
Lowest ERA: 0.86 ERA by Johan Santana
Most saves: 6 by Armando Benitez, John Franco and Billy Wagner
The Marlins new ballpark is currently under construction on the site of the old Orange Bowl in Little Havana. The retractable roof is already installed, which was an absolute must to deal with the South Florida climate. There will be no more rain delays, and every game will feature a cool breeze due to the air conditioning.
The stadium will be owned by Miami-Dade County and will seat 37,000 people. Hopefully, the new facility will actually draw crowds unlike its predecessor. Maybe the pool beyond the left field wall will be a big selling point.
So the next time the Mets travel to South Florida to play the Marlins, it will be in brand new digs. But the newest Met killers—Gaby Sanchez and Mike Stanton—will likely be around and still hitting everything hard.