A recent exchange on Twitter between me and a couple of other Mets bloggers, reminds me of why there is such a great divide between the sabermetric crowd and for lack of a better term, the traditionalists, or the old-school crowd if you will.
In my opinion, the cause for the divide isn't really the stats one employs to evaluate the performance value of any one player, but it's more borne out of some stark philosophical differences. Let me briefly discuss one of those differences.
Is there such a thing as a clutch player or a clutch performance?
To many baseball fans, Mike Piazza's post-9/11 homerun was no less clutch than a home run he hit in a 9-2 loss to the Braves. They say there was nothing clutch about the home run at all, and it was all incidental and not something that was driven by the heat of moment or a pure adrenaline rush, as Mike Piazza himself seems to believe. Apparently, because human emotions are not statistically evident or measurable, it's believed by many that there should be no accounting for them.
On the subject of a player being clutch, the noted statistician Bill James, once said in a 2005 book and interview,
Random data proves nothing—and it cannot be used as a proof of nothingness.
In other words, if you can't prove it's existence, than it doesn't exist. Where have I heard that before?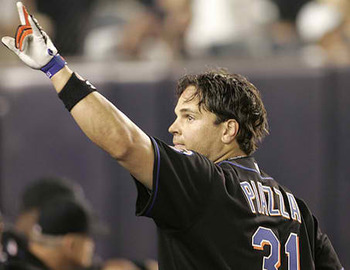 Oakland GM Billy Beane, is one of the most well known saberists (is that a word?) this side of Mars. His ability to build and maintain winning records based on selecting players with high on-base percentages is the stuff of legends here at Mets Merized Online.
But maybe a few cutch hits, and those four consecutive ALDS losses between 2000-2003, might have resulted in at least one pennant or perhaps two, or quite possibly even a World Series trophy – something Beane's teams have never won with him at the helm. At least that's what I think.
Incidentally, did you know the Mets are mere percentage points away from being the top team in the National League in on-base percentage? It's true… I wouldn't lie to a couple of tough guys like you.
The Mets are second with a .335 OBP – three-thousandths of a percentage point behind the St. Louis Cardinals. Oh and of the top four teams in OBP, none of them are post season bound, and three of the four teams have records below .500. Anyway, back to my point.
Why does the mere mention of the words "clutch hitting" infuriate so many baseball fans everywhere, especially the saberists?
Maybe our readers here at MMO can give me an explanation and shed some light as to why so many believe there is no such thing as a clutch player or a clutch performance?
Obviously, I'm biased because my father and uncle who would take me to games as a kid, spoke a lot about clutch players and clutch performances all the time. They spoke quite often of Reggie Jackson and Yogi Berra (yes, my uncle was a die-hard Yankee fan) or Tug McGraw and Tommie Agee. Their views of the game and their great baseball stories, had a lot to do with molding the way I watch and perceive games today.
I don't understand how some would say that Keith Hernandez and Gary Carter are equally as clutch or un-clutch as David Wright and Jason Bay?
Is that really how it is?
There's a hot debate going on right now on MMO over whether or not David Wright is clutch. I'm not going to weigh in on that landmine for now – although some of you already know my thoughts on that – I merely point it out because you can see the great divide on the topic of being clutch and how heated it can get.
So here's the question or questions…
Does the heat of the moment have ANY effect on a players performance at any given time?
Does pressure cause SOME PLAYERS to ratchet up their performance and rise to the occasion, while OTHER PLAYERS simply wilt and wither away?
Is there such a thing as being clutch?
What are your thoughts?