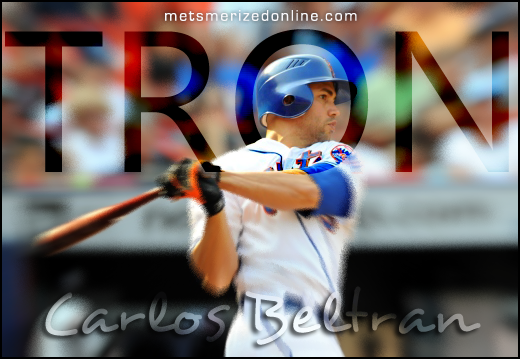 How cool is that Tron graphic from Kelly? I asked her if she would make me a cool graphic to go with my post and in a matter of nano seconds she emails me this. All Mets sites feature great posts to read, but to have artwork like Kelly's mixed in with all of our rants and raves really adds a different character and flair to MMO. Thanks Kelly.
After many great posts from my fellow bloggers here, I thought it was time to give you my take on the Carlos Beltran trade and what he meant to me as player and person, and close out what has been a phenomenal Carlos Beltran Appreciation week at MMO.
Like Ed and Kelly, Beltran was by far my favorite Mets player on the team. It's been that way since 2005 when he joined the team. He replaced the void that once belonged to Mike Piazza who had been my favorite current Met until he moved on.
It was easy for me to root for Beltran because as a Met fan, I've learned to love rooting for the underdogs. After the rude welcome to the New York Mets by gasbags like Joe Beningo and Mike Lupica, and the ensuing mass-negativity that would follow, I knew Beltran was going to be my guy. With the deck stacked against him from jump street, plus a new big contract, and then the weight of a fanbase starving for another post season on his shoulders, it was easy for me to view Beltran as the underdog and thus began my personal journey between me and Tron.
I still remember the day when Omar Minaya was introduced by Fred Wilpon, and Minaya laid out his vision for bringing the Mets back to the post season. He said it would take five years to get back there, but he obviously didn't know at the time that he would be the winner of that offseason's Carlos Beltran sweepstakes. Apologies to Yankees and Astros fans.
Things got off to a shaky start for No. 15. as unrealistic fan expectations, several injuries including a devastating outfield collision with Mike Cameron, and a never-ending bashing in the media, all contributed to a less than stellar 2005 season. During the last game of that season, one look at Beltran's face and you could see he had just been put through an emotional wringer – he looked like he had aged ten years. The smile on his face was gone. Welcome to the Big Apple, Carlos.
What a difference a year can make… By the time Opening Day in 2006 rolled around, Beltran-Bashing had reached a fever-pitch in New York. Radio and cable-TV sportstalk blasted Beltran daily – calling him out for being soft, for being overrated, and even for being Latino, and fans were buying into it in droves. It was an ugly time for being a Mets fan, especially a Met fan like me who had just got his brand new Carlos Beltran jersey that Christmas. I couldn't believe he was being treated and portrayed so poorly.
It didn't take long before some of those haters were jumping back on the Mets bandwagon as after a slow April start (4 HR, 11 RBI), Beltran delivered a huge month in May (10 HR, 26 RBI) and was now in the top five in about a dozen different offensive categories in the NL, and well on his way to an MVP caliber season. Together with Carlos Delgado, they formed a powerful tandem and after one year of rebuilding, the New York Mets were now in the thick of a post season run and were the top team in the NL East. Beltran would hit a franchise best 41 home runs with 116 RBIs, 127 runs, 38 doubles and 18 steals in one of the best all around seasons in Mets history. He would also win his first Gold Glove and Silver Slugger awards and finish 4th in the MVP voting that season.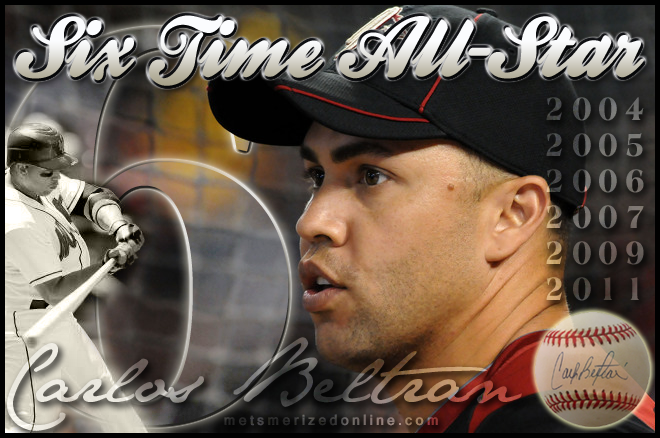 Beltran led the Mets to their first post season since 2000 that year, and for all the grief Mets fans have given him for that called third strike in game seven of the NLCS, the fact of the matter is that Beltran outplayed everyone in that series. The Mets won Game 1 of the NLCS 2-0 as Tom Glavine and Jeff Weaver locked horns in a pitchers duel. All the scoring came courtesy of 2-run blast by Carlos Beltran, who also made a tremendous play in the outfield – doubling off Albert Pujols at first base with a laser to Delgado.
In Game 4, with the Mets down 2-1 in the series, Carlos Beltran powered the Mets to a 12-5 thrashing of the Cardinals to even the series. Beltran was on base all five times going 3-3 with two walks, four runs scored and jolting another 2-run homer, his second in the series.
Then there's Game 7 – that's the game the Mets lost 3-1 with the only run from the Mets coming from Carlos Beltran who doubled and scored in the first inning. Despite a record breaking season, and an NLCS in which he posted a 1.054 OPS in 27 at-bats, Beltran was singled out for simply making the last out in a hard fought series. Never mind his 8 runs scored, his 3 home runs, and his being on base 12 times in seven games, blame Beltran.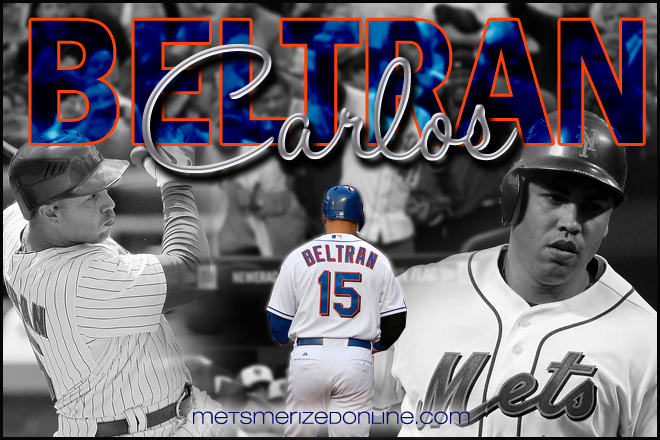 In the next two seasons, Beltran would go on to rack up 73 doubles and 60 home runs while driving in 224 runs and scoring 209 in 2007-2008. He also stoled 48 bases and earned two more Gold Gloves and a Silver Slugger. But the stigma of that Adam Wainwright curveball was simply too much to overcome for most Mets fans, and sadly his heroics were always met with a subdued calm instead of an exuberant celebration. Sadly, that said more about many Mets fans than it did Carlos Beltran.
In 2009, a misdiagnosed knee injury led to what might have been Beltran's best season as a Met. When the Mets finally shut Beltran down toward the end of the first half, he was leading the National League with a .338 batting average and a .423 on-base as well as doubles and extra-base hits. Unfortunately, what the Mets diagnosed as simple knee sprain and treated with a cortisone shot, ended up being a serious bone bruise. He would eventually miss more than half the season and although he tried to come back at the end after the Mets treated him with just rest, he would sit out the last remaining games and was prescribed more rest as treatment during the offseason. Bad idea.
The 2010 season couldn't have started any worse for Carlos Beltran as the Mets organization unfairly attacked him for seeking a second opinion on his knee that had now swollen to twice it's size and was a constant source of pain. The Mets went ballistic when Beltran proceeded with surgery to repair it even when it was proven that their own medical doctor gave the approval, and that GM Omar Minaya admitting he knew about it and wished his centerfield luck the night before. The Mets would spend the rest of that season portraying Beltran in a bad light at every chance they got. He now not only had a fanbase and a belligerent New York media railing against him, but the Mets owners and front office too, and they used their network SNY to do a daily hatchet job on Beltran all through the end of the season. It didn't really matter to Beltran, and while it must have hurt him deeply, he never uttered a bad word about his team, the fans or the media, and he continued to pursue every opportunity to help the community here in New York or abroad in his hometown of Puerto Rico with many different charitable events, many of which MMO was honored to cover.
When the 2010 season finally ended, so did the tenures of Omar Minaya and manager Jerry Manuel. Sandy Alderson and Terry Collins were tabbed to replace them. but the biggest story of the offseason wasn't them, it was Carlos Beltran and his knee and whether or not he would move to right field to help the team. For months this debate fueled sportstalk shows on radio and cable TV until Spring Training arrived and Carlos Beltran would shut all the pundits and talking heads up. Beltran walked into the new managers office and said he would voluntarily play right field much to the shock and ultimate adoration of Terry Collins who lauded him for selfless act.
Of course than the conversation shifted to how many games will Beltran play a week, and how many days can he play until his knee would give out again – just the usual trash journalism. But as has always been the case, Carlos Beltran would once again shut up the always ignorant media and go on to post an MVP caliber season and actually lead the team in games played. Yes, you read that right. Carlos Beltran had become the Mets' Iron Man.. So lets get rid of him.
The writing was on the wall and Beltran was now a marked man. With every swing of his mighty bat, his value continued to soar, and this under-appreciated Mets all-star was writing his own ticket out of town.
The truth is, Beltran needed to go. Not for all the reasons that have been regurgitated countless times on blogs, radio and TV, but because it really was time for Beltran to shake the dust of this town off of him and go someplace where his talents and his good nature will be more appreciated.
New York took a great player, chewed him up and spit him out, and yet they never dulled his shine. The experience never affected his ability to give back. Even in leaving, he did so with class. He thanked the Wilpons, for what I do not know. He thanked the front office who was bent on getting rid of him from day one. He thanked the manager who I know will sincerely miss his right fielder. And of course he thanked all his teammates who were all saddened and shocked to see him go. His final words?
"The Mets did the right thing. I don't blame them. They tried to do what they felt was best for the team. I'm happy for them"
Yes, the Mets were being selfish. Not Beltran… He was being what he always was. A class act whose mark was left in the Mets record books, and whose spirit touched everyone that was privileged enough to play with him. You don't believe me? Just ask the players.
Farewell No. 15.
This concludes our week-long tribute to Carlos Beltran. I want to thank everyone on MMO who contributed, and of course I want to thank all of you for reading and interacting with us.