Unlike the Mets AAA and AA minor league entries, Their Single-A team in the Florida State League has been having a very good season, and are right in the thick of the playoff mix. There will be a "stretch run" for St Lucie, as they were the first half division winners, and are thus assured a playoff spot. What has been St Lucie's formula for success? Let's look a little more closely to find out.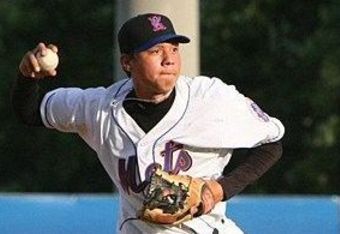 Hitting – There has not been any one or two players that you can say are having a breakout year at St Lucie, but many players are having productive, if not flashy, seasons.
LF Juan Lagares has put himself back on the prospect map, and also earned a recent call-up to Bingo, thanks to hitting a very solid .339 in just over 300 AB's. He had 7 HR's, 49 RBI and an OPS of .876.
OF Pedro Zapata is hitting a respectable .312, with 2 HR's and 36 RBI, in 327 AB's. He also has 28 SB's and only 4 CS.
CF Matt Den Dekker was hitting .296, with 6 HR's and 36 RBI's, and a OPS of .857 when he was called up to Bingo a little over a month ago.
1B Stefan Welch is quietly putting together a career year. The 6'3″ Aussie has had 337 AB's and is hitting .285 with 13 HR's and 45 RBI's, with an OPS of .826. In his last ten games he is hitting .472, with 3 HR's.
SS Wilmer Flores. Despite the high expectations that come with being the Mets top hitting prospect, Flores is quietly putting together a very good year in the FSL. Being only 19, soon to turn 20, he is one of the youngest players in the league. In 401 AB's he is hitting .274, with 8 HR's and 66 RBI's. These numbers are not eye popping, but considering he is achieving success against older players, while garnering valuable AB's and experience, this season is unquestionably a positive developmental one for Flores.
The same things can also be said for RF Cesar Puello, and 3B Jefry Marte. Both just turned 20 so they are playing against players typically 2 to 3 years older than them. Marte has been fairly consistent with the bat this year hitting .255 in 376 AB's. He has chipped in 5 HR's and 47 RBI's. Puello started very slow but has been coming on a little of late, hitting .250 in 368 AB's, with 9 HR's 39 RBI's and 14 SB's. Both are logging playing time this year which is crucial to their development.
Cory Vaughn was called up from Savannah a month ago and has responded by hitting .254 in 122 AB's, with 5 HR's and 15 RBI's.
There have been two glaringly bad performances from key players on this year's squad. C Francisco Pena is hitting a miserable .218 with 5 HR's and 32 RBI's. 2B Rylan Sandoval is only hitting .207 with 5 HR's and 20 RBI's.
Overall, the Mets are 1st in the league in hits and batting avg., 3rd in runs scored, and 4th in OPS.
Pitching – Despite being first half division champs, there have been some fairly uneven pitching performances by most of the starters at St Lucie this year.
The most starts this year have gone to 6'10" RHP Scott Moviel. In 20 GS Moviel's record stands at 5-9 with an ERA of 5.11. He hasn't exactly been a mystery to opposing hitters, who are batting .335 against him.
On the flipside, Darin Gorski has had a marvelous season going 10-1 in 16 starts, with a scintillating 2.20 ERA. In 111 innings he has struck out 115 batters while only issuing 27 walks.
Like Moviel, Kyle Allen has been up and down. In 15 starts his record is 4-7 and a pretty lousy 5.25 ERA. His season can be summed up by looking at his last three games. 8 IP, no runs, followed by 2.1 IP, 5 ER's, followed by 5.2 IP, 1 ER. Talk about an enigma!
Next is the guy who is the main reason they have had such a good season. Matt Harvey was totally dominant during his first half jaunt through the FSL. 14 GS, 8-2 with a 2.37 ERA. 76 IP, 67 H, 92 K, 24 BB, and a 1.20 WHIP. He was then called up to Bingo where he has made 6 starts so far.
Recent additions to the St Lucie rotation are Armando Rodriguez, with 11 starts, a 3-3 record and an ERA of 3.96, and Greg Peavey, 6 starts, 4-2 with a 4.67 ERA.
A new starter will make his St Lucie Mets debut tonight, Zack Wheeler makes his first start for the Mets.
Overall the Mets are middle of the pack in almost every team pitching category. The only two where they totally stand out is CG's and shutouts, believe it or not. The Mets are first in the FSL in CG's with 4 and are tied for first in SHO's with 11!
Standings – heading into the stretch run, the Mets being the first half Southern Division winners, are assured a playoff berth. At this point they are 2.0 games behind the division lead and in third place, for the second half, with a month to go in the season.
Let's Go St Lucie Mets!
Next up, Savannah Sand Gnats (Low A)
This Fan Post was submitted by one of our readers, Peter.