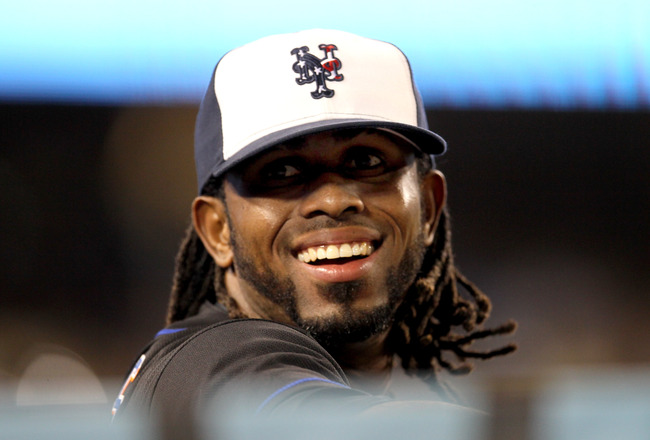 SI.com's Jon Heyman expanded on some statements he made earlier this week regarding Jose Reyes and his upcoming free agency.
Heyman believes that Reyes' two DL stints will not hurt his chances at a $100M+ payday and says interest is still very strong for the All Star shortstop.
Rival executives identified no less than nine teams that could be a fit for Reyes both in terms of finances and the playing field. Those teams are the Giants, Cardinals, Tigers, Angels, Nationals, Braves, Phillies, Red Sox and Yankees in addition to the incumbent Mets, who already have made clear they will make a play for the popular homegrown star who still leads the National League in batting average (.336), runs (80) and triple (16), even after missing significant time.
It's no secret that Jose Reyes wants to remain with the Mets as he himself, as well as his teammates and even his friends have all spoke about Jose's desire to remain in New York where he and his wife enjoy living.
Original Post 8/8
Entering last night's game, Jose Reyes is tied for the major league lead with 49 multi-hit games and 16 triples. He leads the NL with a .339 batting average, a .347 mark vs. right-handers and 79 runs scored, despite losing time to a stint on the DL. Reyes ranks second in the NL with 32 stolen bases and a .350 batting average at home and is tied for fourth in the NL with 215 total bases.
His next triple will be the 100th of his major league career. According to Elias Sports, no major league player has reached the century mark in triples at as young an age as Reyes is today (28 years, 55 days) since Lou Gehrig on August 3, 1931, when he was (28 years, 45 days old).
Yesterday, SI.com's Jon Heyman wrote that Jose Reyes wants to remain with the Mets, but that the team's plan all along seems to have been to offer a five-year deal, perhaps stretching it to a six-year deal. The problem with that is that many believe other teams will make seven-year offers to pry Reyes away from the Mets.
Andy Martino of the Daily News says it remains highly unlikely that the Mets are able to retain their 28-year old All Star shortstop.
"Despite the decision not to trade Jose Reyes, the Mets remain highly unlikely to offer their superstar shortstop the "Carl Crawford money" that many in baseball believe he will command, sources say. The team is still wary of a contract resembling the seven-year, $142 million deal that Boston awarded Crawford."
With Beltran gone and the Mets slipping further away from contention, Jose Reyes is and will continue to be the top Mets story from now until he finally agrees to a deal – whenever that is.