According to the website Dominican Prospect League, the New York Mets have come to terms with three prospects from the Dominican Republic in right-handed pitchers Jesus Lugo (age 17) and Nadir Crismatt (age 16), and Dionis Rodriguez (age 16).
Here are players capsules on each:  
Jesus Lugo RHP – March 31, 1994; 6'1, 175lb (Trainer – Miguel Delgado)
Jesus is a former SS with arm strength and projection, His 6'1 wiry body and easy arm action has helped him develop on the mound. During his conversion time in the DPL Lugo was a pleasant surprise showing pitch ability, movement in the strike zone at 88-91mph with a feel for off speed pitches. In May he was selected to the DPL All-Star game. The conversion has paid off as the New York Mets offered him the opportunity to develop within their organization.

Nadir Crismatt RHP – Dec 25, 1994; 6'1, 190lb (Trainer – Miguel Delgado)
Miguel Delgado identified Crismatt in Colombia more than 2 years ago, shortly after Delgado took Nadir under his guardianship to the Dominican Republic. Crismatt showed signs of development after a few months of his arrival in DR. As his arm strength and off-speed pitches developed he was selected to play in the DPL. Presently Crismatt doesn't light up the radar gun but he works with command and pitch ability at 86-89mph, he spins his Curveball well and his Change-up is effective.
Dionis Rodriguez C Feb 15, 1995; 6'0, 190lb (Trainer – Amauri Morel)
Rodriguez is from Santiago located in the northern region of Dominican Republic. He has proven to have enough arm strength (1.95-2.10 pop time) and defensive skills behind the plate to stick at the position, although his bat will find him a spot in the line up. Dionis is a solid hitter with gap to gap power, he was selected to both DPL All-Star games this season, showing hitting ability and power potential.
It's good to see the Mets tapping into this market which has become very competitive over the years and talent-laden.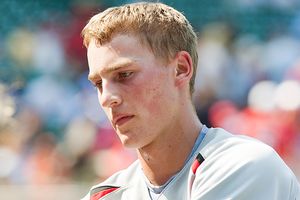 On another note, the Mets have yet to sign their top 2011 Draft Pick, Brandon Nimmo. Nimmo met with Mets beat writer Andy McCollough of NJ.com not too long ago and Nimmo had the following to say about his five-tool potential.
On defense: "It doesn't matter to me where I play." 

On running: "That's one thing I pride myself on. I am fast. Most people don't realize that because I kind of look like a tall, lanky thing that couldn't get going very well. But I do get going real well."

On hitting for average: "I just try and work on hitting the ball square, all the time."

On hitting for power: "I'm not too concerned about that whole power thing. Because I know I hit the ball on the barrel plenty, and I hit plenty of doubles and triples, and those will turn into home runs."

On throwing: "I know my arm's going to be strong enough. I can stand at home plate and throw the ball out of our field, which is 340 feet."
GM Sandy Alderson didnt sound too concerned when asked about the Nimmo negotiations a few days ago.
"We've got seven out of 33 in the first round signed. Most of them are going to sign on the last day."
The deadline for signing Nimmo expires on Monday August 15. It is believed that Nimmo's signing bonus, which is rumored to be between $2.5 million and $3.5 million, is what's blocking the deal.
Hat tip to metsr1 for the link to Dominican Prospect League!